Indian Army Joins Tawang-Torgya Festival Celebrations at Tawang Monastery in Arunachal Pradesh
The Indian Army participated in the celebrations of the annual Torgya Festival, also known as Tawang-Torgya, at Tawang Monastery in Arunachal Pradesh, on Monday.
The festival, which is exclusively held at the Tawang Monastery, is a yearly event that takes place on the Buddhist calendar days of 28th to 30th of Dawachukchipa, equivalent to January 10 to 12 on the Gregorian calendar. The purpose of the festival is to safeguard against external aggression and natural disasters. The festival was marked by bonhomie among local religious bodies, civil administration and the Army.
As part of the three-day celebrations, costumed dances are very popular and performed with the objective of removing evil spirits and ushering in all-round prosperity and happiness to the people in the ensuing year. The artists with colorful costumes and masks, representing animal forms such as cows, tigers, sheep, monkeys and so forth perform popular dances such as Pha Chan and the Losjker Chungiye, the latter is performed by the monks of the monastery. Each dance represents a myth and costumes and masks.
The first day's festival is called Torgya and involves worship of the image created specially for the occasion. The creation of the images starts 16 days prior to the festival. The image is created to a height of 3 feet (0.91 m) with a width of 2 feet (0.61 m), and is exclusively crafted by 14 lamas of the monastery. Right from day one of making the image till it is completed, scriptures are recited by the monks of the monastery to the accompaniment of beating of drums by another group of lamas. The ingredients used for making the image are ghee, barley, milk and molasses, and it is done in honour of Lama Tsongkapa.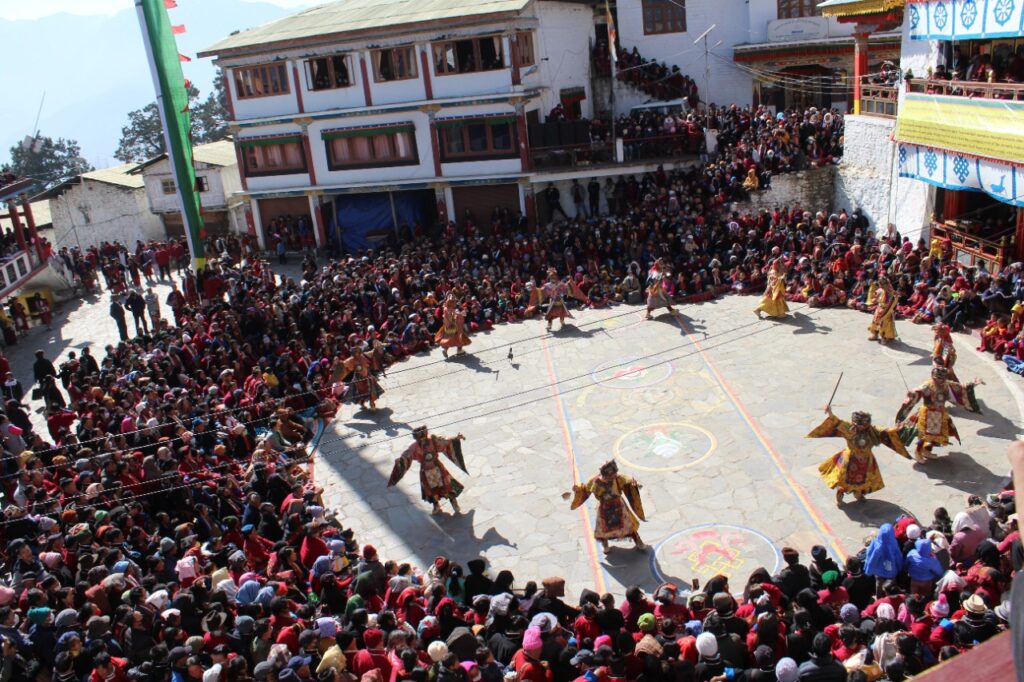 Source: @GajrajCorps_IA, Twitter