Glimpse into Arunachal's indigenous Monpa art and craft
Human existence and the two closely related words, 'Art and Craft' have always been mutually inclusive. While art relies on artistic merit and craft is based on learned skills and techniques, they have always worked as a cyclical fuel for each other. There is an inexhaustible list of motivations behind any work of art ranging from aesthetics, utility, as a form of catharsis, tool for revolution, personal expression or to elicit a sense of collective belonging, among innumerable others. It has always been a definitive part of 'being human'.
Archaeological evidences invariably suggests that humans created art and craft dating back to thousands of years and possibly longer. To put it simply and conclusively, it is the most tangible manifestation of the socio-cultural heritage of a society. Therefore, the easiest way to understand and learn about a society is to delve into their world of art and craft.
Arunachal Pradesh has a rich pool of different forms and varieties of art and craft, coming from the 26 major indigenous communities inhabiting the state. Handloom is one of the most popular and common handicraft across communities in the state. Weaving is an intrinsic part of their life and a mainstay of rural economy as well. The Monpas of Tawang District, located in the westernmost corner of the state forms one of the 26 major tribes. They are famous for their artistically blended and beautifully designed art and craft.
The spectacular scenery, pleasant temperature, cool breeze and a tranquil environ are nature's way to usher one into Tawang's embrace, making signposts rather irrelevant. The other two major distinctive attributes of Tawang are innumerable waterfalls and alluring Buddhist monasteries of varied sizes dotting the majestic Himalayan mountains.
If one takes a closer look, all the monasteries are adorned with impeccable paintings hanging all around. These paintings on cotton sheets or appliquéd silk usually depicts a Buddhist deity or scenes from the Buddhist mythology. These Monpa paintings are similar to paintings of other communities along the trans-Himalayan region. Known as Thangka/Tanka painting, it has origins in Tibet and its literal meaning translates to 'recorded messages'.
The Monpas value and give special place to Thangka painting amongst other handicrafts as they have a belief that painting on religious themes or images of deities is a pious act and earns the artist spiritual merit. This art form functions as a powerful mode of religious expression and an effective tool for teaching Buddhist philosophy. It is also used as designs on objects and as decorative pieces simply for its rich aesthetic.
The art of Thangka painting involves and requires perfectly calibrated and calculated measurements. The religious value of the painting is said to be determined by the level of accuracy in its proportion, measurement etc. It is as much a science as it is an art.
Along with paintings, the Monpa artists have deft hands in weaving. It is a skill almost exclusively honed by women of the community. Young girls are trained by older women and the skill and art of weaving is thus passed on from one generation to the other.
A gamut of items are woven by these adept artists. The main raw material used for weaving are cotton and wool, with wool being more popular as it meets the practical requirements of the region's cold weather.
One of the woven item that deserves special mention are the magnificent carpets and rugs. Using different colours of wool these carpets are given sophisticated designs that are unique to the Monpa community.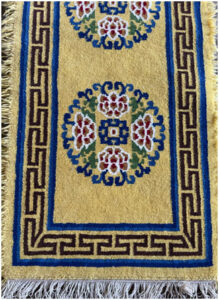 These exquisite designs are numerous; ranging from a variety of beautiful impressions of snow lions, dragons, to more minimal flowers and patters. Needless to mention, the quality is top notch – soft yet durable and sturdy. It dares to defy the oxymoron 'affordable luxury'. It offers craftsmanship, quality, exclusive heritage yet it is not tied around a superficially constructed, perceived value and price.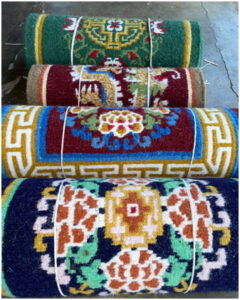 For these women artisans, weaving as a task is not only oriented towards an end product but the process itself serves to meet invaluable purposes. It fosters a sense of sisterhood and camaraderie, an opportunity to bond and enjoy each other's company.
At times, the mechanical steps involved and the rapt attention it demands engrosses their mind and body to a level that all worries and concerns gets obscured and takes a back seat. It becomes a good exercise to still the mind and live in the moment.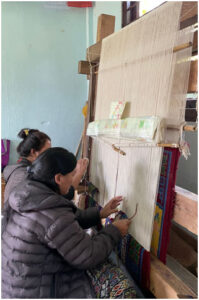 Men and nature have always evolved, moulded and adapted to suit and survive each other.
The skills and crafts developed and mastered by men is dependent and determined by his natural surrounding. Tawang is a region endowed with lush forest with different varieties of trees.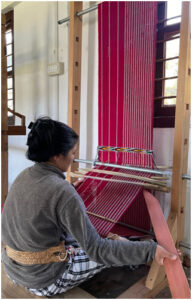 The Monpas have the expertise passed down over generations to identify and utilise different varieties of woods for different purposes. To add to it, they have an unmatched prowess at wood carving.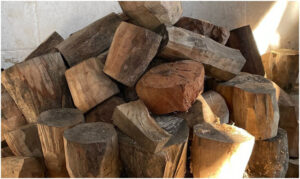 The most ubiquitous and functional items one could spot when in Tawang are perhaps the Monpa low-table 'Cho-Tze' and the beautiful wooden cup 'Dong' used for serving alcoholic beverages.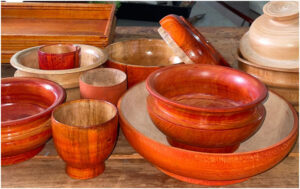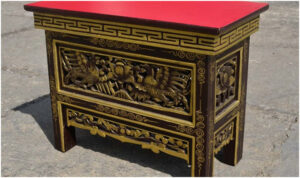 The process of making these items are expectedly elaborate and requires perfect precision at every step. The end product explicitly substantiates the efforts.
There are other forms of inspiring art and craft, nurtured and preserved by the Monpas; so numerous that it could not be written about in a single article. The effort and attempt nevertheless, was to give a quick glimpse of the rich heritage of the Monpas of the state.