Assam Rifles organises medical camp for over 471 People in Manipur
In an ongoing commitment to cater to the medical requirements of all communities in Manipur, the Assam Rifles organized a comprehensive medical camp in Pukhao Terapur Village, Saikul. The event aimed to provide essential healthcare services to both the locals of the village and those residing in nearby relief camps.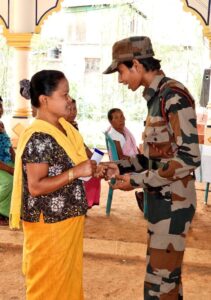 The medical camp, conducted by a team of dedicated healthcare professionals, witnessed active participation from the Assam Rifles personnel who assisted in ensuring the smooth operation of the event. A total of 471 individuals, including 167 children, were provided with vital medical care and attention.
As the region continues to recover from the recent crisis, the Assam Rifles' commitment to organizing medical camps demonstrates their dedication to the welfare and well-being of all residents.