Young Tribal Women formed an initiative to mobilize relief material from Kohima till Hengbung
Young Tribal Women formed an initiative to mobilize relief material: After Manipur was engulfed in a horrific orgy of violence starting on May 4, many sought refuge in various relief camps set up by local clubs, NGOs, and armed forces. Kuki and Zomi people found themselves stranded in Imphal Valley, while many Meiteis were stranded in parts of Churachandpur and Kangpokpi. Houses got burned, innocent lives were lost, vehicles were torched, and hate and crime slopped everywhere.
To restore law and order in the state, thousands of people were evacuated from their camps to their native places in Imphal, Churachandpur, Kangpokpi, and Chandel.
Some estimates claim that around 5,000 tribals, including the elderly, women, and children, were evacuated to Kangpokpi district since May 5. Under the aegis of IGAR (E), the Assam Rifles helped transport these people safely despite the mobs being ready to attack.
The Kangpokpi Town Relief Committee set up around ten relief camps in and around the Kangpokpi town. In the IT Road leading to Tamei, Tamenglong District HQ, various Liangmei Naga villages have offered shelter and food to the displaced Kuki people. Various Maring, Anal, and Moyon villages have been doing the same in the Chandel and Tengnoupal districts.
One such relief camp is located at Hengbung, approximately 9 km from Kangpokpi town. The MLA of Saitu Assembly Constituency had been sheltering people in his private quarters in Imphal from May 4 and working on evacuating people from camps in Imphal to Kangpokpi by sending private buses from Hengbung till Imphal. However, the rescue operations were hazardous.
On May 8, he requested the armed forces to give the buses evacuating 3000+ people from Imphal to Kangpokpi security convoys to ensure no harm comes their way. Upon reaching Kangpokpi, they were housed in different shelter camps and at present, the Hengbung relief camp has around 600-700 people.
Julia Kipgen, a resident of Hengbung village, has been working on the ground to provide relief to the internally displaced people. When asked what she's most worried about, she replied, "We are running low on supplies and finding financial help is extremely tough to get right now. Many toddlers and babies also require special foods." The necessity for donations and goodwill in rife-torn Manipur is high at the moment.
Various on-the-spot initiatives have also risen to fill the increasing need for rations, sleeping mattresses, and blankets in the relief camps. The Young Tribal Women's Network was founded by tribal women from diverse tribal communities in Northeast India on May 8. What started as a mere Whatsapp group to discuss the crisis in Manipur soon turned into a full-blown initiative to help people adversely affected by the violence and ethnic riots in Manipur.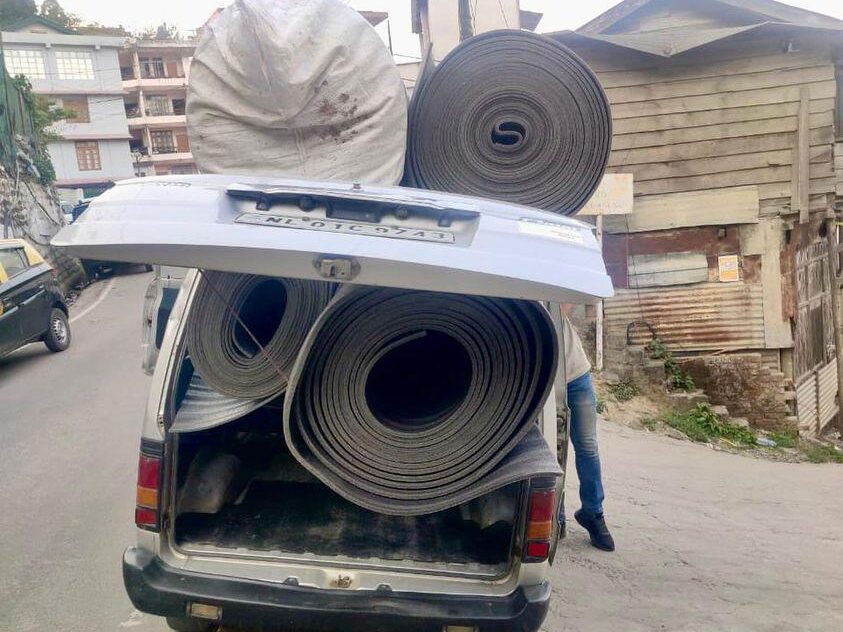 Anna Sireiliu Charanamei, one of the women spearheading the initiative, recalls how a close friend from Hengbung reached out for help to tackle the lack of resources. It dawned on them that they could arrange for relief and funds from Kohima since the portion of NH-2 between Kangpokpi and Kohima, passing through Senapati town, is much safer and has not witnessed much violence.
Anna started calling up people randomly, started posting about the relief initiative on different Naga groups, and asked her Naga friends from Kohima to help find suitable locations for pick up and drop off. Luckily, one Mao Naga friend from her tribal women's group spoke with the Mao Baptist Churches of Kohima (Nagaland) and Senapati (Manipur), who agreed to help. Young people staying in the hostels run by the Mao Churches also volunteered to help.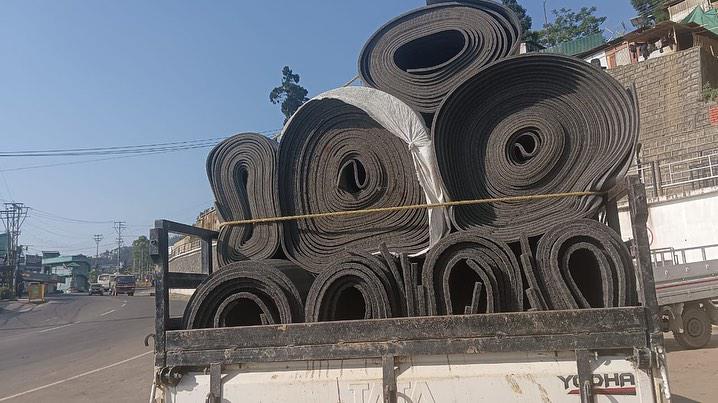 Since Senapati was the transit between Hengbung and Kohima, they arranged for volunteers from Senapati's Red Cross Society. Anna recalls the pastor calling them and telling them the church was empty. However, as the news of the goodwill programs spread, three Naga girls from Kohima, working as field coordinators, started getting calls from Kohima residents about the initiative enquiring about how they could help. Blankets and mattresses began piling up, much to the joy of the dedicated volunteers and women of the Young Tribal Women's Network.
Anna attributes the success to the restless tribal women, who relentlessly ensured relief programs successfully reached Hengbung. She laughed, "If not for the collective being an only tribal women's space, this initiative would not have progressed so rapidly. We're really proud of this achievement".
After all the donated blankets and mattresses were arranged, the pickup truck left early, at 7 AM on May 10. The volunteers even prepared a banner with the name of their initiative, Young Tribal Women's Network, written. The driver took pictures of the journey and sent them once he reached Kohima, as WiFi and mobile data services were still shut down in Manipur.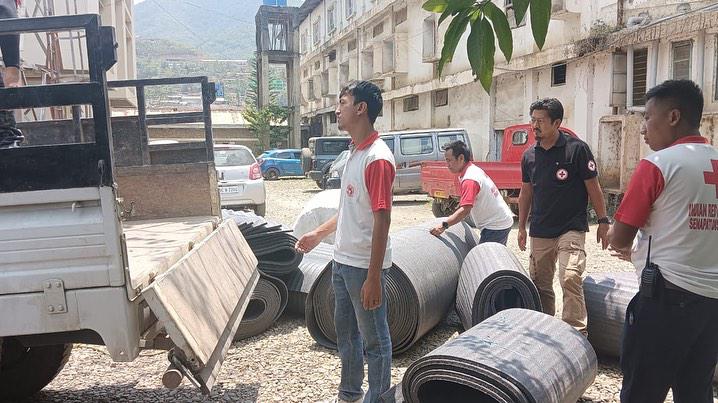 They also created an Instagram account, @youngtribalwomen, to permit rapid circulation of information and to help their donors know that their money is being put to good use.
Though the network of young tribal women is rejoicing at the success of their first initiative, they also face numerous problems that will be hard to overcome. Though they have received calls for help from a village in Kangpokpi, whose residents wish to remain unnamed and Kasom Khullen (Kamjong), finding safe passages for carrying relief materials to these villages will be challenging as many Meitei settlements are in between. She said that a Kuki woman gave birth in Kasom Khullen without the help of a doctor.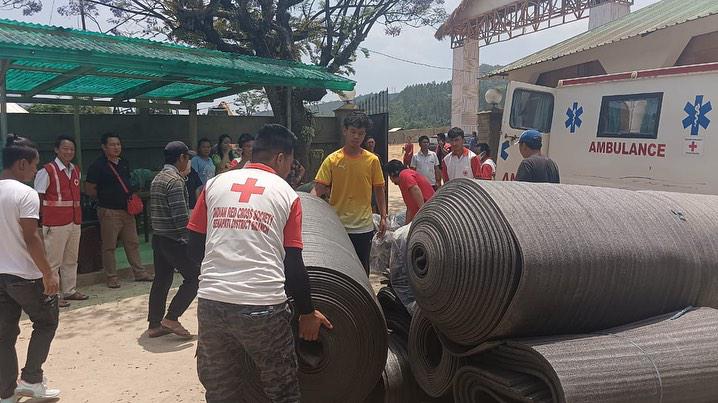 They have also started receiving help from their fellow Meitei friends in finding safe passages for relief materials to be transported to Kasom Khullen, and other remote villages, some which prefer to be left unnamed.
She received a concerning ground report that Meitei shops expressed reluctance to offer drinking water and rations to any tribe, whether Naga or Kuki. It was easier for Meiteis to help their fellow Meiteis stranded in Imphal's relief camps, especially since they had fewer people and did not have to face heavy questioning and suspicion and fear of harassment from the mob as they were helping members of their own community.
In contrast, tribal relief camps in Imphal were overpopulated, with the maximum being around 10,000 people in one camp. Other Naga volunteers in Imphal reported that they were forced to work discreetly when providing relief to the affected people. When distributing relief material, they resorted to wearing their own Naga wraparounds and waistcoats to let the Meiteis know that they were not Kukis. Since people risk their lives on the ground, they refuse to disclose too much information for fear of their safety.
To assure the Meitei people, who are prominent members of the mob, that they're working for every community, whether Meitei or Kuki and for the guaranteed safety of the Naga population in Imphal who were left unharmed but only contingent to their obedience to the mob's orders, they had to distribute some relief materials to relief camps for Meiteis too. However, they reported that these camps had sufficient relief materials to sustain themselves compared to those occupied by tribal people who did not have enough essential items. They were forced to drink and use unfiltered water from water tanks, and there was barely any space to stretch their legs.
When asked about the next step of the tribal women's network, Anna said they would be working on procuring rice, which is getting scarce in Hengbung. The state government stopped sending rice rations to Kangpokpi.