BSF, BGB agree on development projects and enhanced border security measures
The BGB (Bangladesh) Director General Level Border Coordination Conference 2023 concluded today on June 14 in New Delhi with a focus on expediting developmental and infrastructure activities to boost trade and bilateral relations between the two countries.
The conference witnessed a momentous decision as both border guarding forces agreed on a total of five developmental projects that will have a profound positive impact on the lives of the population along the Indo-Bangladesh border.
The participation of His Excellency Maj Gen A K M Nazmul Hasan, BAM, ndc, psc, Director General, Border Guard Bangladesh (DG BGB), leading the Bangladesh delegation, and Dr. Sujoy Lal Thaosen, IPS, Director General, Border Security Force (DG BSF), leading the Indian delegation, showcased the high-level commitment of both countries to promote cooperation and mutual understanding.
In addition to the developmental projects, both border guarding forces emphasised the need to effectively curb border crimes. To achieve this, they agreed to increase night simultaneous coordinated patrols in vulnerable areas and engage in real-time sharing of information. These measures will contribute to making the Indo-Bangladesh border a crime-free zone and ensure the safety and security of the border communities.
During the conference, the DG BSF appreciated the cooperation of BGB in expediting the construction of the Single Row Fence and other essential elements along the border. Both sides agreed to hold a meeting of Nodal Officers within a month to address matters related to developmental and infrastructure works.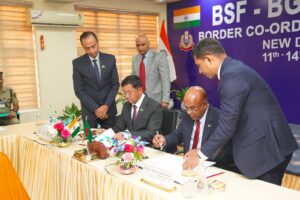 The importance of the Coordinated Border Management Plan (CBMP) in curbing trans-border crimes, such as drug smuggling and contraband trafficking, was highlighted. Both sides agreed to pursue and share real-time information and interrogation reports of traffickers, remaining extra vigilant to eradicate border crimes.
To reduce the number of violent incidents along the border, both sides agreed to enhance joint patrolling and vigilance, particularly during late hours of the night to early morning. They also emphasized the importance of public awareness programs, sharing real-time information, and bringing criminals to justice.
The conference also acknowledged the efforts taken to strengthen mutual cooperation through confidence-building measures, joint patrolling, and identification of vulnerable areas. DG BSF proposed increasing sports activities between the forces at the border and exploring water sports activities in the riverine border. Both sides agreed to continue bilateral engagements, including games and sports, joint retreat ceremonies, goodwill visits, and training exchange programs.
BSF (INDIA) – BGB (BANGLADESH) DIRECTOR GENERAL LEVEL BORDER COORDINATION CONFERENCE – 2023 HELD AT BSF CHHAWLA CAMP, NEW DELHI (INDIA)

BOTH BORDER GUARDING FORCES EMPHASIZE ON EXPEDITING AND GIVING MORE MOMENTUM TO DEVELOPMENTAL AND INFRASTRUCTURE ACTIVITIES THAT WILL BOOST THE… pic.twitter.com/djG0XX11YX

— BSF (@BSF_India) June 14, 2023
Expressing satisfaction with the outcomes, both DGs reiterated their commitments to work jointly for maintaining peace and tranquility at the border. The next Director General level conference is provisionally scheduled to be held in Bangladesh.