Fault Lines Drawn: Demand for NRC grows in Manipur
After Assam, several civil society groups in Manipur want NRC to be implemented in their state as soon as possible. Anxiety about scarce resources like land and government funds being taken away by illegal immigrants from Myanmar seems to be a major reason. On the 6th of August 2022, the Manipur state assembly decided to implement the controversial NRC in their state to identify its citizens properly.
Manipur CM Biren Singh told the press on March 31, 2023, that they have already set up a Manipur State Population Commission (MSPC) to identify the outsiders and ensure their presence is recorded.
They will start conducting verification drives in Kamjong, Pherzawl, Churachandpur, Tengnoupal, and Chandel to verify their citizenship. However, the Government of Manipur needs to have the centre's approval first before introducing NRC in Manipur.
The Meiteis and Nagas: A Shaky Alliance
Recently in March 2023, several students organizations based in the Imphal Valley like the Democratic Students' Alliance of Manipur (DESAM), Apunba Ireipakki Maheiroi Sinpanglup (AIMS), Kangleipak Students' Association (KSA), among others have organized protests in Khwairamband Keithel, demanding NRC implementation to protect indigenous people of Manipur. On March 29, even women's associations of the historic Ima Market joined the protests, with many seen holding placards on which slogans like "Save Manipur From Influx" were written.
Khuraijam Athouba, an executive member of the Coordination Committee Of Manipur Integrity (COCOMI) claimed that with Chin refugees from Myanmar getting assistance from their Kuki brethren in settling in Manipur, the entire political discourse will change. He claimed that Assam has witnessed 30-40% of their state assembly states being taken away by Bangladeshi migrants. However, this sentiment was also echoed by Manipur-based Naga organizations like the All Naga Students' Union, Manipur (ANSAM), and United Naga Council, Manipur (UNC).
The Secretary of the UNC, Milan Shimray asserted his belief that there should be a base year to decide citizenship of Manipur, where people who come after that base year should be treated as migrants.
The protest has also been transported to the national capital, New Delhi, in Jantar Mantar where they submitted a memorandum (containing their demands) to Amit Shah, the Union Home Minister.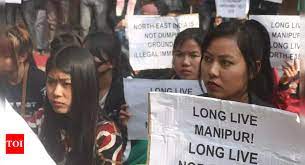 The Nagas have had tense relations with the Meiteis and Kukis, especially due to the Naga movement for secession from India. The Nagas occupy vast territories in the hill districts of Senapati, Kangpokpi, Tamenglong, Kamjong, Tengnoupal, and Ukhrul. However, in this issue, the Nagas and Meiteis have formed an alliance to "safeguard" their territory and people from the influx of Myanmar refugees.
The Nagas and Kukis have had decades-long conflicts with each other, with the most brutal being the Naga-Kuki Lan in the 1990s, where 350 Kuki villages were uprooted and more than 1000 Kukis were killed. The NSCN-IM (Isak-Muivah) and various Naga organizations in Manipur have claimed that Kukis have no ancestral land in the state.
With the rapid circulation of rumors and reports that the Chin refugees from Myanmar are receiving assistance from Kuki villages, fears of Kukis getting greater political clout have gripped many people. Others accuse the valley-based Meiteis of not wanting to share more assembly seats with the tribals in the hill districts, who have only 19 representatives in a total of 60.

Various students organizations and heads of tribal organizations like Tangkhul Katamnao Long, Zeliangrong Students' Union, and Rongmei Naga Students' Organization agreed to attend the one-day consultative meeting on the 12th of April 2023. However, organizations of the Hmar, Vaiphei, and Paite communities of Southern Manipur may not be attending the meeting.

Leishangthem Lamyanba, President of the Democratic Students' Alliance of Manipur, highlighted the importance of building a common platform for all the stakeholders of Manipur to discuss the demographic challenges (referring to the influx of refugees from Myanmar).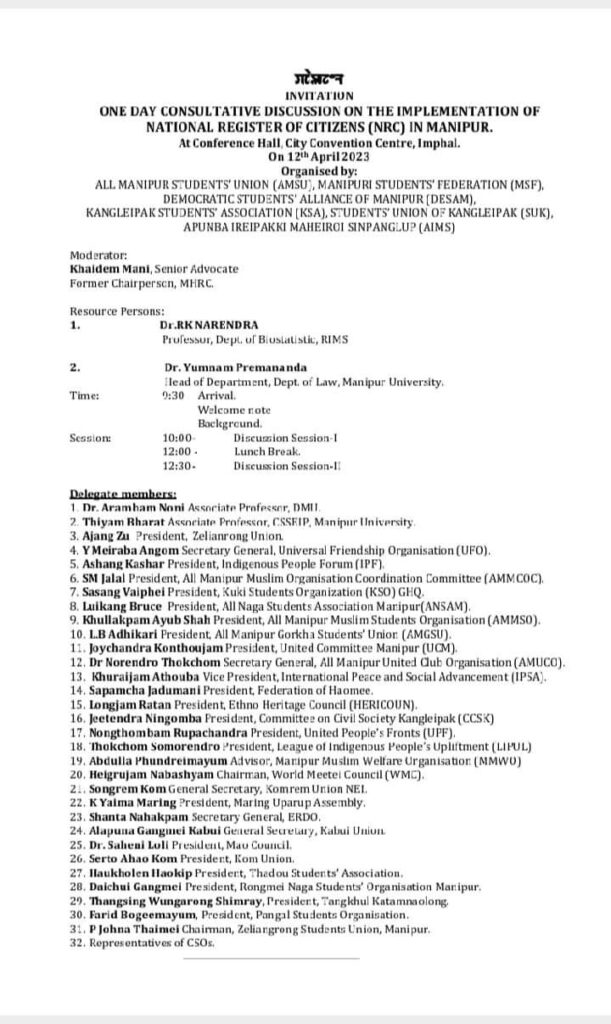 Read this too: Shelter Homes for Myanmar Refugees in Manipur: Will it provide the much-needed succour?
What Should the Base Year Be?
Though there have been persistent demands to keep 1951 as the base year, the state cabinet has resolved to keep 1961 as the base year to determine one's citizenship. Some people aren't very satisfied with keeping 1961 as the base year. However, keeping 1951 as the base year will be a politically controversial move as there have been tribals who have migrated into the present territory of Manipur only after that base year. Moreover, some tribal communities in the hills have been known to practice shifting cultivation and thus, migrated quite often, due to which it will be tough, if not impossible to produce land documents.
Change In Demography: Birth Rates or Migration?
The protesting student organisations claim that the growth rate for the 1941-1951 decade was only 12.8%. However, in the 2001-2011 decade, the growth rate has risen to 24.50%. They claim that birth rates can't simply explain away this boom in growth rates. Instead, they claim that a more complicated reason, like the population influx from neighbouring states and countries, may be the reason for such a demographic boom. Moreover, they claim that refugees from Myanmar are leading armed groups in Manipur, illegally occupying protected forest tracts and engaging in poppy cultivation in the hills.
There has also been a massive boom in the number of villages seeking state government recognition. Currently, Manipur has around 2700 revenue villages, with another 55 waiting to receive recognition. However, CM Biren Singh has reiterated that villages with less than 50 households won't be eligible for recognition as revenue villages.
Currently, it remains to be seen whether the boom in growth rates can be solely attributed to the influx of immigrants from Myanmar. Moreover, since estimates of Chin refugees in Myanmar put their number between 5000-10000, it's unlikely that their presence would drastically impact Manipur's demography and unstable political climate. There could be several reasons for the population growth rates other than illegal international immigration. Proxy voters and inflated voting lists could also be contributing factors. We will have to wait for further research on this issue to get to the crux of it.
Implementation of NRC in Assam and Nagaland
This isn't the first instance that calls for the implementation of NRC have been raised in Northeast India. Neighbouring states like Assam and Nagaland have faced similar demands. Although it took seven years to prepare a massive register of Indian citizens in Assam, it was rejected by the state government. Prominent Assamese figures like ex-Congress legislator Ataur Rahman Mazarbhuiya, family members of FA Ahmed, India's 5th President, and MLA Ananta Kumar Malo found their names missing from the list. However, various indigenous communities in the state remain convinced that there are more illegal immigrants than those identified in the NRC.
The Nagaland Government plans to roll out the Register of Indigenous Inhabitants of Nagaland (RIIN), with the base year being decided as December 1, 1963. The NSCN-IM sees this political development as a threat, given its ongoing demands for integrating all Naga-inhabited areas in Manipur, Nagaland, Arunachal Pradesh, Assam, and Burma. While this isn't without its apprehensions and criticism, some Naga people in Nagaland support it, citing the cases of illegal Bangladeshi immigrants acquiring lands and even Nagas of Manipur getting fake certificates to access government jobs and schemes meant only for people of Nagaland.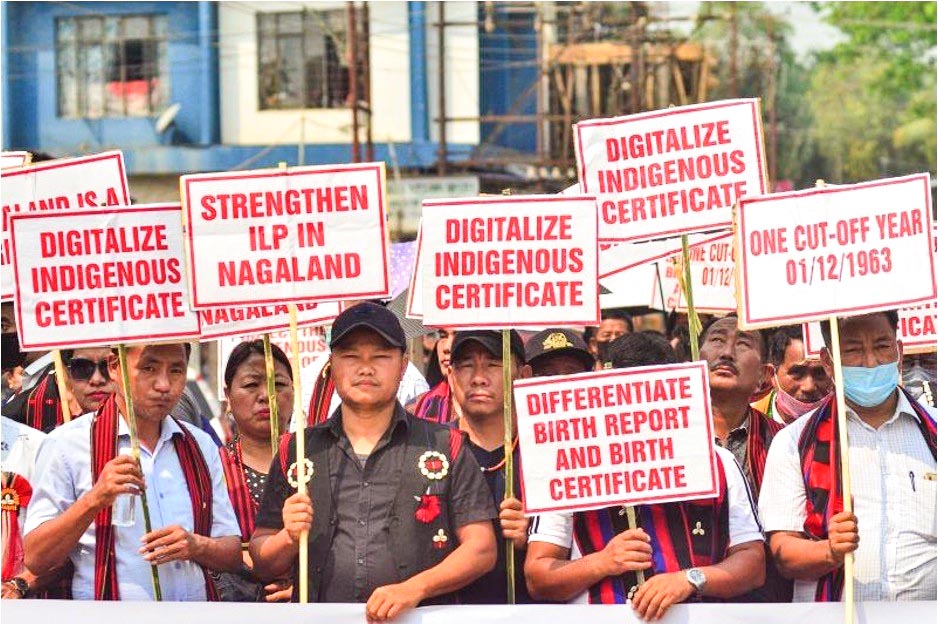 The NRC exercise is far from being easy in addition to its arduous and financially expensive operations of identifying and differentiating between indigenous people and refugees and creating lists. Besides this there has been continuous allegations of misappropriation of huge amounts of public funds during the process of rolling out the NRC in Assam.Taking Assam as a chapter to learn from, the Manipur government needs to tread carefully on this issue instead of merely giving in to popular political demands.