Kuki Women Union holds peaceful sit-in-protest demanding removal of Manipur Police Commando from Moreh town
The Kuki Women Union & Human Rights Moreh (KWU&HR) organised a peaceful sit-in-protest today on July 7, in support of the complete removal of Manipur Police Commando from Moreh town, located in Manipur's Tengnoupal district.
Over 3000 women gathered at the New More playground, situated in the India-Myanmar border town, to voice their concerns and demand justice. The women protesters held aloft placards carrying messages such as "Withdraw Commando Who Kill Us," "We Don't Want Communal Force, Remove Commando From Moreh," "Killer Commando Go Back," "Impose PR To Save Lives," "Tribal Lives Matter," "Govt of India, Find The Truth," among others.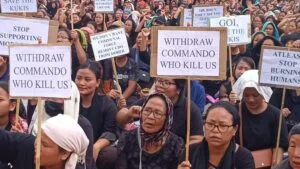 Amidst the peaceful demonstration, the protesters raised their voices in unison, shouting slogans such as "Go Back Manipur Police Commando" and "To Regain Peace in Moreh Town, Remove Manipur Police Commando."
Additionally, it has come to light that the Manipur Police Commando was involved in several other distressing incidents. On May 3, the commando allegedly shot and killed two innocent minors at Moreh Bazar, following a road blockade orchestrated by unidentified miscreants.
The victims have been identified as Thangminhao Haokip (18), son of Paolet Haokip, and Thanggoulun Zou (16), son of Lalminlen Zou, both residents of Chavanghai in Moreh Ward No. 7.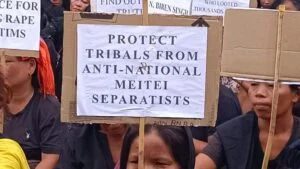 Furthermore, on May 5, the police commando reportedly subjected civilians to physical assault. The victims of this incident are identified as Seikai Mate (approximately 40 years old), son of Jamkholun Mate, Phakim Haokip, and Ngamjang Haokip from New Mongjang village near KLP Moreh. These individuals were ambushed and assaulted by the commando while they were attempting to pick up their children from Eklavya Model Residential School, Moreh (EMRS ) and Gateway International School, Moreh.
The students involved in the incident include Joshua Seikholet Mate and Letkhogin Haokip, both studying in class 10 at EMRS, as well as Hathoinom (class 1) and Lhingnunthem (KG-2), students of Gateway International School, Moreh.
The parents of the students claim that, in addition to the physical assault, the police commando confiscated their service weapons and pointed guns at the innocent students.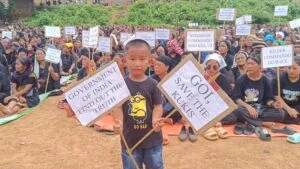 A representative of KWU&HR addressed the media present at the protest site, shedding light on the incident that sparked this strong response. The representative stated that Manipur Police Commando had allegedly killed two innocent civilians, who were students, in Moreh on May 3. She expressed deep anguish at the loss of innocent lives and highlighted the constant threat faced by civilians due to the presence of communal forces, particularly the Police Commando.
A woman who runs a tea stall at the road side at New Mongjang also alleged that the police commandos without any lady police assistance rushed to her tea stall and pushed her and also beat some NHIDCL labour who were engaged in NH road construction. She said that the NHIDCL labour were having tea and snacks at her stall when they thrashed them. She further alleged that the police commando looted her money amounting to over 8000 rupees.
The KWU&HR representative further emphasised that the pervasive fear created by the presence of the Police Commando had disrupted the normalcy of Moreh town. Parents were terrified to send their children to school, fearing for their safety.
As the sit-in-protest continues, the community's plea for the removal of Manipur Police Commando aimed to restore peace and create a secure environment for the residents of Moreh.