Dima Hasao Insurgent Group Signs Peace Pact with Assam and Centre
On April 27, in the presence of Union Home Minister Amit Shah and Chief Minister Himanta Biswa Sarma, the State Government and Centre signed a peace agreement with the Dimasa National Liberation Army (DNLA)/Dimasa People's Supreme Council (DPSC), an insurgent group based in Assam's Dima Hasao district.
After signing the memorandum of understanding (MoU), Mr Shah said, "The agreement will put a complete end to insurgency and with this, there are no more armed groups in Assam today."
He said that under the agreement, the DNLA representatives have agreed to give up violence, surrender, including the surrender of arms and ammunition, disband their armed organisation, vacate all camps occupied by DNLA cadres and join the mainstream. As a result of this agreement, more than 168 armed cadres of DNLA surrendered with their weapons and entered the mainstream, he said.
The Minister said the agreement would bring a complete end to the insurgency in the Dima Hasao district of Assam.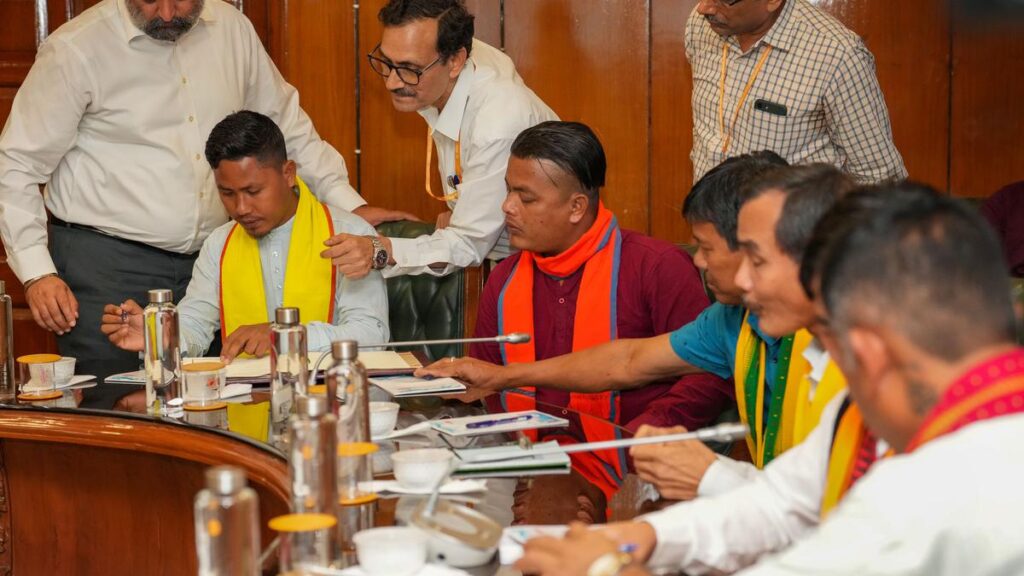 "Dimasa Welfare Council will be set up by the Government of Assam to protect, preserve and promote a social, cultural, and linguistic identity to meet political, economic and educational aspirations and will ensure speedy and focused development of the Dimasa people residing outside the jurisdiction of the Autonomous Council," he said.

The MoU also provides for the appointment of a Commission under Paragraph 14 of the Sixth Schedule to the Constitution of India to examine the demand for the inclusion of additional villages contiguous to the North Cachar Hills Autonomous Council (NCHAC) with the Council.

It also provides necessary measures to be taken by the Government of India and the Government of Assam to rehabilitate the surrendered armed cadres of DNLA. "To this effect, a Special Development package of ₹500 crore each will also be provided by the Government of India and Government of Assam over five years for all-round development of NCHAC as well as Dimasa people residing in other parts of the State," the Ministry said in a statement.

On September 2021, the DNLA declared a unilateral ceasefire for six months following an appeal by the Chief Minister. The ceasefire has been extended since then.

The DNLA announcement in 2021 came two weeks after the insurgent group allegedly fired upon a convoy of seven trucks in the Dima Hasao district, killing five people and injuring one.

The DNLA was established in April 2019, seeking a sovereign territory for the Dimasa tribals, and launched an armed insurgency to achieve its goal.
Source: THE HINDU BUREAU