Over 100 people killed in Myanmar military airstrike on Kanbalu Township in Sagaing, junta claims responsivity for attacks
NUG and NUCC vows to eradicate military regime and hold it accountable for war crimes
More than 100 civilians, including at least 18 children, were killed and another 50 were injured in airstrikes on Pa Zi Gyi village, Kanbalu Township of Sagaing Region on April 11. Myanmar military junta's fighter jet from TadaU Airport carried out the bombing over Pa Zi Gyi village beginning 7:45 am followed by two rocket and machine gun attacks from one Ml 35 from North-Western Command five minutes later.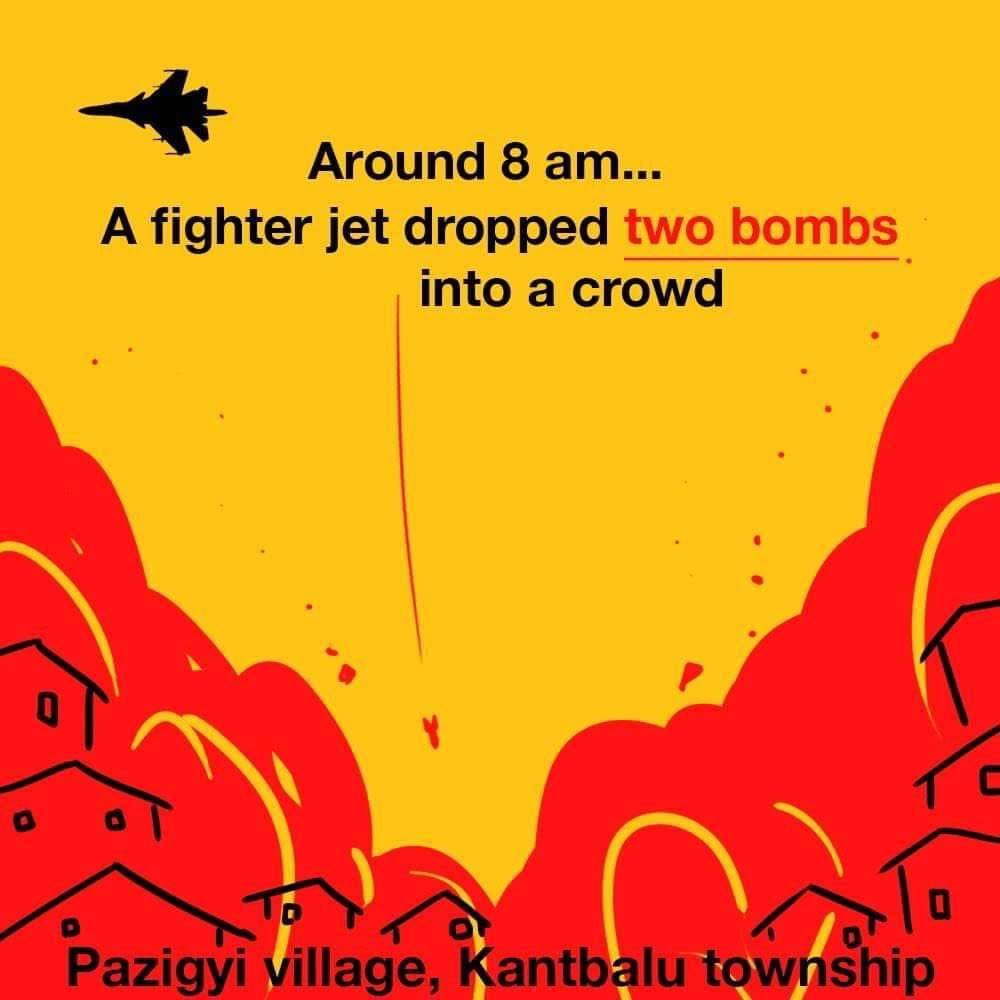 About 200 people living in the resistance stronghold were attending an opening ceremony for its People's Administration office when aerial attack by the Myanmar Air Force occurred. Another airstrike occurred as rescuers were assisting the casualties, according to locals.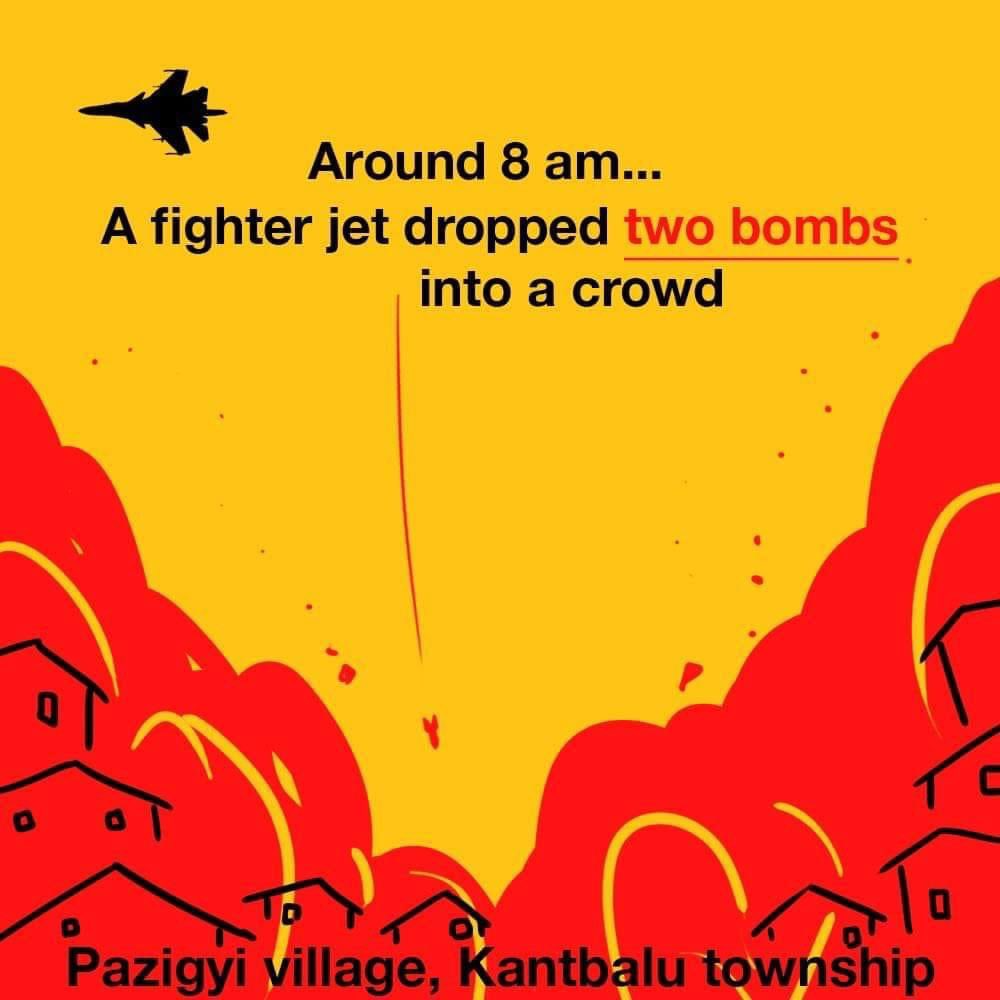 The air strikes comes close on the largescale assault by ethnic armed groups and the People Defence Forces (PDF) on the Myanmar military junta. The Karen army had mounted an all-out offensive against government security agencies. between April 3-6 wherein as many 114 Myanmar junta forces were killed in joint attacks by the PDF and ethnics armed forces.
Myanmar's military regime spokesperson Zaw Min Tun confirmed on Myanmar Radio and Television (MRTV) that the military conducted an airstrike killing over 100 people in Pa Zi Gyi village, Kanbalu Township of Sagaing Region on April 11. "There was an opening ceremony for an office of the so-called terrorist group the People's Defense Force [PDF]. We had to attack it. We later found out that members of that terrorist group were killed at the ceremony. They are a group that works against the people and the government," he stated. Zaw Min Tun claimed that the airstrike hit an ammunition depot and landmines planted by the PDF and alleged that its members were wearing civilian clothes at the opening ceremony.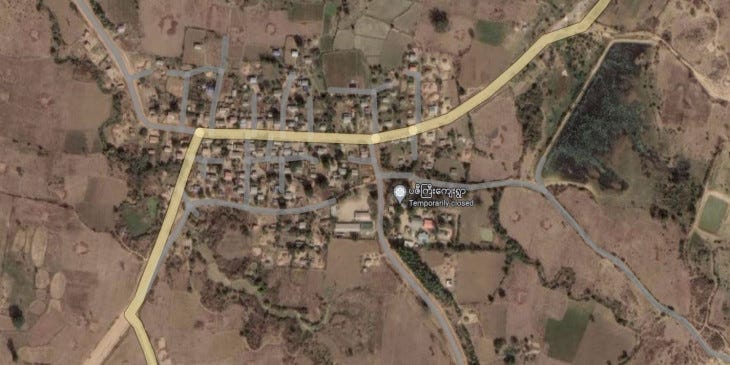 A DVB report quoting locals said that more than 100 people, including 30 children, were killed in the airstrikes. A local told DVB that an Air Force plane dropped a bomb on the People's Administration office, where 200 people were gathered, and then a Mi-35 combat helicopter opened fire on people fleeing the scene. Phoe Thein, a local resident, of Pa Zi Gyi village told the DVB that "Food was served during the office opening ceremony. So, children and young students joined, ate there and then they planned to go to school,"
Video footage and photos obtained by Myanmar media outlets showed dead bodies scattered all over the ground. "All I want to say is do not target children and civilians. Just fight us like a man. But this kind of situation is very bad and it is worse than shooting at us," said a PDF spokesperson while speaking to the DVB. The National League for Democracy (NLD) party condemned the airstrikes, stating that the military "committed a mass killing of innocent civilians" and that the international community must take immediate action to prevent "blatant acts of genocide in Myanmar."
A statement from the Ministry of Defense of the National Unity Government (NUG) issued on April 11 said that it is "deeply saddened to announce that Myanmar military launched an airstrike on Pa Zi Gyi Village, Kantbalu Township, Sagaing Region this morning, resulting in the loss of scores of innocent civilians and injuring many more, including children and pregnant women."
Describing the act as "heinous" the NUG statement said this was "yet another example of their (Myanmar military) indiscriminate use of extreme force against innocent civilians, constituting a war crime. "We strongly condemn all terrorist acts committed against the people of Myanmar, including today's attack, and reiterate our commitment to ensuring justice for the victims."
It vowed to end "the cycle of military coups in Myanmar" and eradicate the "military dictatorship" for the people of Myanmar "to establish a stable and peaceful society and work towards the welfare of all." "We remain committed to this goal and assure the public that the losses suffered by our citizens will never be in vain. We will make every effort to reach our objective and create a safer and more prosperous Myanmar for all," the statement added.
The National Unity Consultative Council (NUCC) has condemned the attack and described it as a violations of Sections 25, 26 and 27 of the 1907 the Hague Convention and Protocol 1 of the Geneva Conventions as well as being war crimes and crimes against humanity. "We condemn the widespread, intentional and systematic killings committed by the military junta across the country, an NUCC statement said.
The statement also said that the organization is "committed to bring about justice for the innocent people killed in these attacks and to build federal democratic union which is the aspiration of the people of all national races. It also called on international community to "take effective actions against the military junta who are committing such heinous crimes."
US vows to hold regime accountable
U.S. Secretary of State Antony Blinken issued a statement to mark Thingyan. Blinken pledged U.S. support for Burma's "democratic future" and reaffirmed that it would hold the military accountable for the coup and crimes against civilians. "At this difficult time, please accept our sincere regards for the people of Burma," he concluded.
Conflict escalates as Thingyan (water festival) festivities are underway across the country
According to the DVB daily news in the Chin State nine civilians were killed and five were injured in an airstrike on Webula town on April 10. The Chin National Defense Force (CNDF) told DVB the attack came after it seized a Burma Army camp in Falam Township. "They launched airstrikes after 30 minutes of our seizure and dropped six bombs with one jet fighter. One of our fighters was killed in an accident when he tried to disarm a grenade," said a CNDF spokesperson. He claimed that 16 Burma Army troops were killed and 11 were detained following the camp seizure by the CNDF.
Meanwhile, in Yangon the Thaketa Student Union and the Township Students' Strike Committee are calling on the public to boycott Thingyan celebrations in Yangon. The students raised a banner with the slogan: 'We will not enjoy the Fascist Tagu [month of Thingyan]' in front of the Township Hall. The regime has organized Thingyan festivities in Yangon, Mandalay, Naypyidaw, and other towns and cities.