Language, photography, and memories converge into a collective voice in Stories from the valley
The origin of a place and its population is traced over time through stories that connect the past with the present. These are stories of those who, with nothing but clothes on their backs, sought refuge in a newfound place that would later become their own home.
In the balance between loss and discovering a sense of belonging in a new environment, the aspiration to find a home is driven by diverse motives- some pursue education, others seek better employment opportunities, some venture for love. Each of these reasons tells stories that would become integral components of a larger narrative.
In the quietly titled Stories from the Valley, Donskobar Junisha Khongwir and Karen Lalrindiki Donoghue present a desire to trace the imprinted memories in Shillong's Happy Valley.
Happy Valley in Shillong today is known for its market of secondhand clothes, indigenous food items, and a significant population of the Mizo community. It is also known for a high prevalence of alcoholism and drug abuse within the society. But for some, it is where one found refuge, a childhood spent, and a continual hub of migration, with new reasons prompting individuals to seek a home.
Through interviews and photographs, Stories from the Valley sheds light on the stories untold within Shillong's Mizo community, and the memories that linger within these streets.
Keeping the essence of "remembering" its central theme, the photo book stands as a personal memory and representation for those whose lives transitioned from being visitors to residents.
This locality had much to offer to the community, addressing practical aspects, such as renting a "Khasi house for 40 rupees," framing them as part of the everyday life that defined the town during a specific time period.
This is how stories from the valley took shape in Shillong where little did anyone foresee the formation of a diasporic community. Questions like, "how did we get here?" can only be answered by tracing the intricate lines of migration, adaptation, and shared experiences that bring a community together.
The lens captures the memories of its residents through a perspective marked by scars of two decades of violence and insurgency, spanning from 1966 to 1986, which continue to haunt the older generation in Mizoram.
As each individual reopens their past recollecting memories of struggle, a collective narrative emerges, shedding light on the shared history and the strength that binds them together- photographs serving as historical evidence of both their losses and aspirations.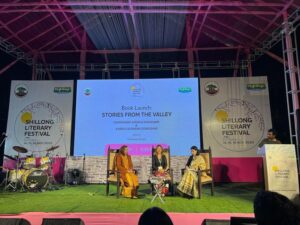 As the stories unfold, one cannot help but wonder how the name Happy Valley originated or find substance behind the label, questioning reasons that led them to this locality or to Shillong at all.
Shillong has always been fortunate to inherit the legacy of quality education from foreign missionaries, and had more to offer in terms of employment and education. While many opted to send their children elsewhere for studies, for numerous northeasterners, choosing Shillong was often the most accessible and initial option.
Within the northeastern community, it is not uncommon to find someone, perhaps a grandparent or an elder, who had pursued education in Shillong, often earning them the distinction of being highly educated individuals for their time. This collective longing for education also draws attention to what Shillong offered these communities and serves as a significant reason for their migration during that period.
So much of what is offered to us today can be so easily taken for granted, but for many, finding a place to flee was more than enough to rebuild their lives, with an appreciation for the simple refuge they found in Happy Valley. At the core of these narratives are a handful of common themes, the relationship between vulnerability and belonging.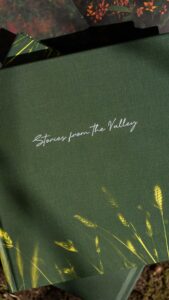 Stories from the Valley is straightforward in its narration, featuring translations with each page adorned with both English and Mizo language- a deliberate choice that adds authenticity to their experiences and also creates a dedicated space for preserving oral history.
The question of language becomes central, with the interplay between Mizo and English capturing the intentional bilingualism which reflects the natural cadence of real-life conversations, making the book an authentic representation meant for the community.
Khongwir emphasises, that language, a vital element in the book, is explored through photographs, where she adopted a unique approach—of more listening than seeing. Her approach involved moments where she needed to put down the camera and step back to actively listen, though the unfamiliar language. These were instances where technicalities became secondary, allowing her to focus on storytelling and capturing moments that demanded genuine emotion.
The book, born out of a 2020 peace-building project from the North East India AV Archive, compiled itself as a project fostering collaboration, and, as the authors describe, it was out of love and grief that bonded them during that time.
"Remembering" takes on a transformative role in this narrative, not merely as "demanding", as stated in the book, instead being a powerful tool for healing.
Donoghue's poems in the book also stitches the chapters further by accentuating the waves of migration, each presenting different stories of leaving homes behind.
The authors redefine the act of remembering, encouraging readers to envision a future shaped by understanding the past and to resonate with the collective voice.
One could not walk the streets of this locality the same way again if you were to know the history behind its community. As the authors attempt to find depth and navigate the understanding of a place and its people, they give meaning to the origin of a place very ironically, and quite fittingly named, Happy Valley.
Stories from the Valley is available for sale here.