Arunachal's Ngurang Learning Institute makes headlines at the UNGA
Amidst the ongoing ethnic conflict in Northeast India's Manipur, Arunachal Pradesh's not-for-profit

Ngurang 

Learning Institute (NLI) receives accolades at the 78th United Nations General Assembly (UNGA) session in New York.
My sister Meena and I are humbled and thrilled by the recent recognition of our Free Street Library Initiative under the banner of our family-run- not-for-profit NLI at the recent United Nations General Assembly (UNGA) session. It is, indeed, a momentous chapter, in ours and NL's memory and for Arunachal society. As NLI reflects on its past endeavours and prepares to mark its 10th year anniversary next year, to receive accolades at the UNGA is illustrious.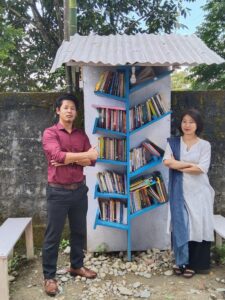 NLI's ongoing Free Street Library Movement received praise for being one of the 17 lighthouse case studies from India – each of these projects addressed one specific Sustainable Development Goals (SDGs). The report titled 'IDEAS, INNOVATION, IMPLEMENTATION, India's Journey Towards the SDGs', conferred NLI's Library project also on the parameters of scalability potential in other parts of the world, notably in the global south. The report is a joint publication by the United Nations in India, Reliance Foundation and the Observer Research Foundation.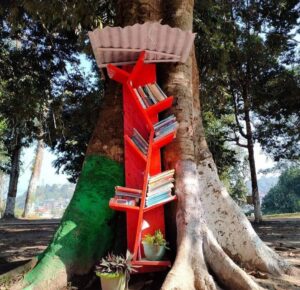 Development work, categorically in the field of education and gender, in a frontier state like Arunachal Pradesh demands an understanding of the exigencies of the Arunachal society, along with resolute vision, planning, and aid. Our journey to the UNGA has been possible due to several factors, distinctively it is the love and support from Arunachal society, friends and well-wishers such as writers, human rights defenders, to cultural institutions in India and abroad.
With the recent UN recognition, I am convinced that NLI will continue to persist on its humanitarian and educational efforts, notably with the cooperation from the international community. 
Background
Post-colonial Arunachal Pradesh is yet to see any discernible growth in the education sector. The state is the worst performing as compared to all its 'sister' states, and most of the Indian states, notably in literacy (Census 2011). The state is also the second lowest performing state on NITI Aayog's SDG India Index on SDG 5 (Gender Equality) and among the lowest performers in SDG 4 (Quality Education). According to the recently launched UN report, 31% of the population is below 15 years, albeit, only 6% of children attended pre-primary school in the year 2019-2020. The picture is dismal for rural women with only 69% literate, mentioned in the same report. 
Ngurang Learning Institute (NLI) is a non-profit foundation based in Arunachal Pradesh, conceptualized and founded in 2014. NLI was born out of the desire to address the specificities of the gendered roles and rights for the women of AP dictated by the Tribal Customary Laws. Customary laws are not codified and distinct from tribe to tribe – yet they all deny equal rights to women. Many aspects of the customary laws and practices have and continue to deter women and children from receiving a satisfactory education and hence affect career choices.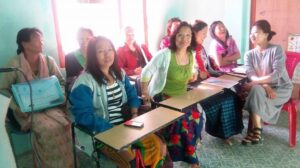 Since its inception, NLI's resolutions have been to locate and seek reforms of the contested aspects of the Nyishi tribe's customary practices. Through its decade of work that involved imparting adult education, skill development training programmes and several other educational projects, NLI has helped over a thousand people to read and write, thus advancing the Sustainable Development Goals- 4 of providing Quality Education and 5 of Gender Equality in Arunachal Pradesh.
Motivation Behind the Library Movement
During the peak of the pandemic in 2020, when education and mobility were restricted, NLI's operation also saw a disruption. My sister Meena, who is currently a teacher at the Kimin Higher Secondary School, however, saw an opportunity to bring 'education to the streets' and launched  the self-help-roadside library. 
A Facebook post about a street library in the state of Mizoram inspired her, and thus began the first phase of the project with a personal investment of 10,000 rupees. The initial excitement of news books, however, faded soon for the children of the area where she first launched the library stand. Additionally, enticing little children with treats and gifts, also became a part of her strategy to impart reading interests.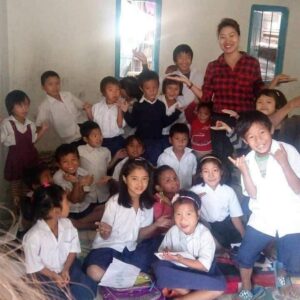 Through partnerships with various educational, cultural, and non-profit institutions such as the District Collector's office in the state, NLI has been able to amplify its outreach and impact on literacy. These partnerships, along with contributions from several other individuals and entities, enabled the project's gradual launch of the second phase in 2021-2022 to eventually become a state-wide movement. NLI's humble story not only caught the Northeast Indian region's attention, but also reached the national and  international media. During this phase, NLI received support from the British Council, Roli Books, and even authors like Bee Rowlatt –a British journalist and feminist author. 
On 8 March 2023, as a result of NLI's rapidly growing Library Movement, the Women and Child Department, Govt. of Arunachal Pradesh, conferred Meena as one of the nine Women's Achiever Awards at Itanagar, in the field of Education. In the following months, NLI's success story became part of the Prime Minister's Mann Ki Baat National Conclave in New Delhi.
Impact and Outcomes
The ongoing library movement currently spans across three districts in Arunachal, namely in  Papum Pare, Kurung Kumey and Tirap. The project has grown remarkably, since its first launch in 2020, twenty six libraries are currently functional with approximately 50-100 visitors on a daily basis. 
With the severity of COVID-19 cases withdrawing the schools opened up, therefore, the number of visitors to our library stations fell drastically between 20-40 readers per day. However, NLI"s ongoing mission continues to receive the support of the Capital Deputy Commissioner along with the Government school headmasters and principals of various districts to raise awareness and impart the importance of reading and inviting children to visit the libraries.
NLI's team also continues to receive a lot of love and gratitude messages through social media, many even volunteering to send books, both old and new.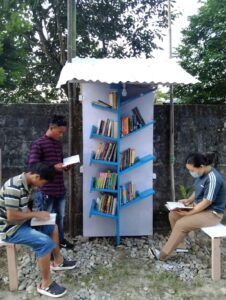 NLI's Free Street library movement has not only made reading and learning accessible but I believe we have also been able to make some remarkable contributions in some individuals' lives. An unemployed adolescent reached out to us recently to inform us that through NLI's repository, he was able to access the costly books to prepare for a competitive exam. He also succeeded in the test!  Such positive stories of change and empowerment really makes us happy and motivates us to continue our work.
NLI's educational endeavours, although committed to scale up its ongoing library project to every district in the state, goes beyond this. In the backdrop of the historical, political and economic marginalization, it is imperative that the state of Arunachal Pradesh develop in a holistic manner. Government of India's (GOI) ongoing Vibrant Village Programme to build infrastructure near the Line of Actual Control (LAC) for indigenous communities, must align with the aspirations and sentiments of the natives.
Quality education for the youths, and girls and women's freedom must precede before nationalist fervour. It is education that will help facilitate the indigenous boys and girls of the state to become critical thinkers, eventually, aiding them to strengthen their political, social, and economic participation.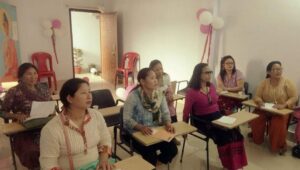 Note for the readers: The Free Street Library Movement on the ground is led by Ngurang Meena and her partner Diwang Hosai. NLI's current library stations are in: 
 1. Papum Pare District: Mengio circle, Nirjuli, DoimukhGovt. Higher Secondary School (GHSS), Naharlagun GHSS, Itanagar Indira Gandhi Park, Polo park, Naharlagun, Mani Middle school, Papu Nalla Middle school, Kankarnallah GHSS, Doimukh football ground, Kimin teacher's  campus, Kimin market, Kimin GHSS, Kakoi middle school, Hawa camp middle school, PachinGHSS, Tigdo GSS, Rayo village Home library, Yupiahome library, Jullang village home library, Chimpu home library.
 2. Kurung Kumey District: Koloriang Govt. Higher Secondary School (GHSS), Nyapin GHSS.
 3. Tirap District: Deomali bus stand.