Megha Kayak Fest sets the stage for reopening of Meghalaya rafting program in Umtham
Umtham, also known as Whitewater village, is located in Umling, in Ri-bhoi district, Meghalaya, just 5 km away from Nongpoh, the district headquarters. The village is nestled amidst enchanting lush green forests on one side and is surrounded by picturesque tea gardens on the other. This unique setting offers kayakers and tourists the opportunity to immerse themselves in the tranquil beauty of nature.
Umtham or Whitewater village is surrounded by the flowing Umtrew river which offers class 2-4 kayaking rapids for the adventurous individuals who dare to tame the mighty river, especially during the monsoon season.
With an aim to promote rafting in Meghalaya, the Ri-Bhoi Water Sports and Tourism Cooperative Society and the Meghalaya Canoe Association had once again opened up the Meghalaya Rafting Program at the Whitewater Village located in Umtham, in Ri-Bhoi district.
It was during the year 2019 that the 1st Megha Kayak Fest was organized in Whitewater Village under the guidance and mentorship of Ian Vincent and in collaboration with Meghalaya Canoeing Kayaking and Rafting Association.
For several years, the Ri-Bhoi Water Sports and Tourism Cooperative Society and the Meghalaya Canoe Association have actively promoted water sports in Umtham village. In 2018, the state government made the decision to launch the Meghalaya Rafting program.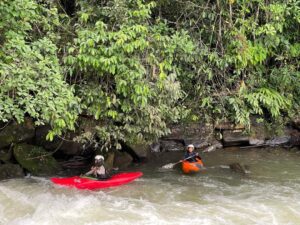 Umtham or Whitewater village has hosted numerous national and international events to popularise the sport and at the same time train local youths, both boys and girls who are now participating in various national and international events.
Apart from encouraging water sports among the youths of the state, the Meghalaya Rafting program also aims at promoting rural tourism which Meghalaya is slowly becoming one of the best in facilitating rural tourism in India.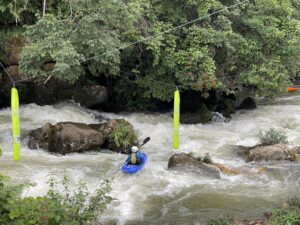 On 7 July 2023, Meghalaya Chief Minister Conrad K. Sangma said that the state government is keen to provide assistance in making Umtham village as one of the best destinations for kayaking and also in rural tourism.
Conrad K Sangma emphasised that Umtham Village has an enormous potential to become one of the best destinations for kayakers hence the state government pledged to address immediate challenges, improve network connectivity, and explore infrastructure enhancements.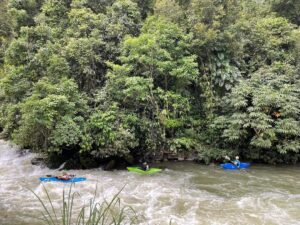 He assured the organizer of the Meghalaya Rafting Program that the state government would develop as a tourism circuit and will introduce programs that enhance the overall experience for visiting tourists.
"As a government, we believe in promoting innovative ideas and interventions. Rafting in Umtham has tremendous potential, and it is our responsibility to ensure that we support and go the extra mile to leverage this exciting sport, which will not only empower our youth but also attract global attention" said Conrad K Sangma.