Mopin Festival: Changing narratives among the Galos of Arunachal Pradesh
When I first made my way towards Basar, the district headquarters of Leparada, also home to the Galo tribe of Arunachal Pradesh in Mopin, I wasn't quite sure what to expect. Plenty excited, we entered the sacred ritualistic agricultural festival that strives to promulgate the idea of a unified and harmonious existence on earth.
Mopin is celebrated annually on April 5th with great enthusiasm and religious fervour across the state. Being a district of entirely Galo population, it is here that we observe the festival celebrated in its absolute grandeur. Galos are mainly animists, and they worship the Donyi-Polo.
In the course of my journey, I met with Seni Riba, a former Anchal Samiti member who, along with his three grandchildren, drove me to the general ground where Mopin celebrations began. His grandchildren dressed in the traditional white with black embroidered attire characteristic of the Galos exhibited the long-standing tradition and attachment to the Mopin festival. Mopin is pre-dated as one of the oldest Bonpo cultural festivals, which existed in Central Asia and Tibet.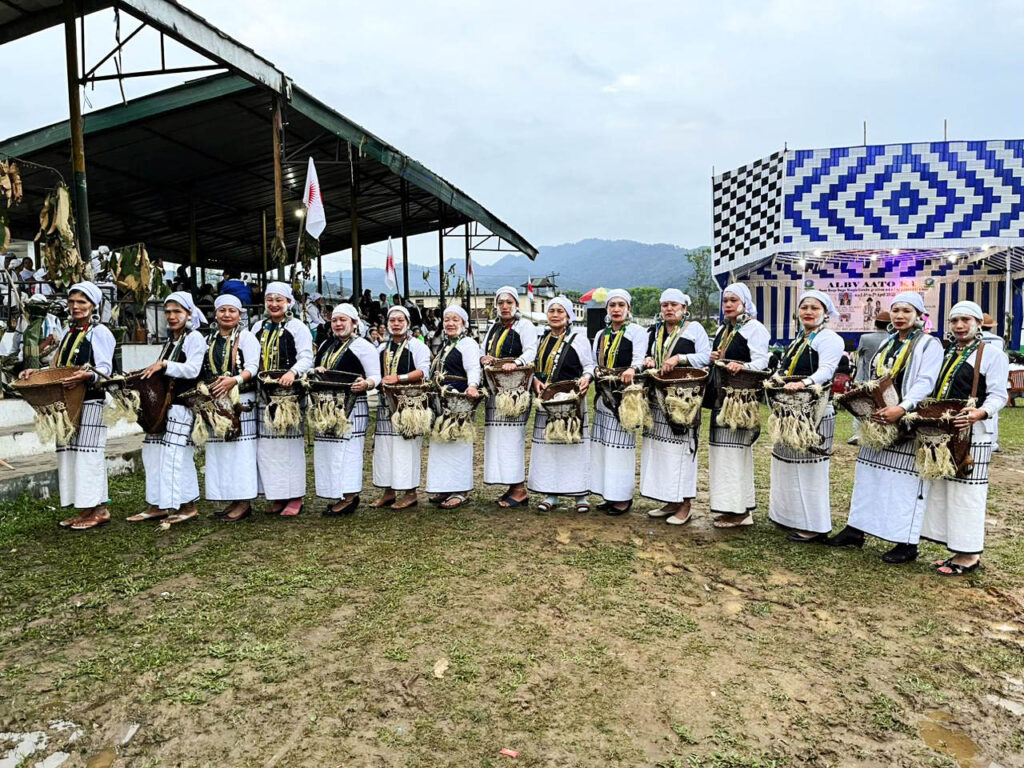 As we entered the general ground, I saw a distinct dedicated space for a sacrificial altar. A Mithun had been sacrificed a day before invoking Ane Mopin, who is the Goddess of agriculture, preserver of all vegetation, and the celestial teacher of Abotani (forefather of all Tani tribes residing in central Arunachal Pradesh and the first man ever born on this earth) for a bountiful harvest season. The festival thrusts the beginning of the agricultural season for the Galos.
The Myth
The tradition of sacrifice began with Abotani, the first man on earth who had long-standing strife with Taka Taji (a terrestrial being that lived separately). His animosity with Takar Taji had led him to the heavenly abode of Ane Mopin, where he observed that the land of Mopin was prosperous with food and wealth. While he begged Ane Mopin to teach him her ways, Ane Mopin sent him back to earth with some paddy and maize seeds. However, with no skills to cultivate the paddy, he returned to Ane Mopin and asked her for her daughter, Pinku Pinte's hand in marriage instead. On agreeing, Abotani left with Pinku Pinte. They lived a happy and prosperous life until Abotani married Rosi Tami (daughter of Diro, God of Famine), and she brought with her the great famine. Pinku Pinte left the marriage and went back. The troubles began for Abotani, and he returned to Ane Mopin and begged for her daughter Pinku Pinte to return to earth with him. Pinku Pinte agreed on one condition – he had to leave Rosi Tami. Abotani did so and pitched images of Ane Mopin and worshipped her religiously. On invoking Ane Mopin, she and other deities brought Pinku Pinte along with them and restored all the agricultural implements and seeds. Abotani then had to learn the art of cultivation, and slowly but steadily, Abotani learned to cultivate large areas of land. His hard work made him prosperous, and thereafter Ane Mopin was worshipped and thanked every year before the start of the sowing season. Mithuns were sacrificed in appreciation of Ane Mopin's generosity and help. Thus, Mopin came to be.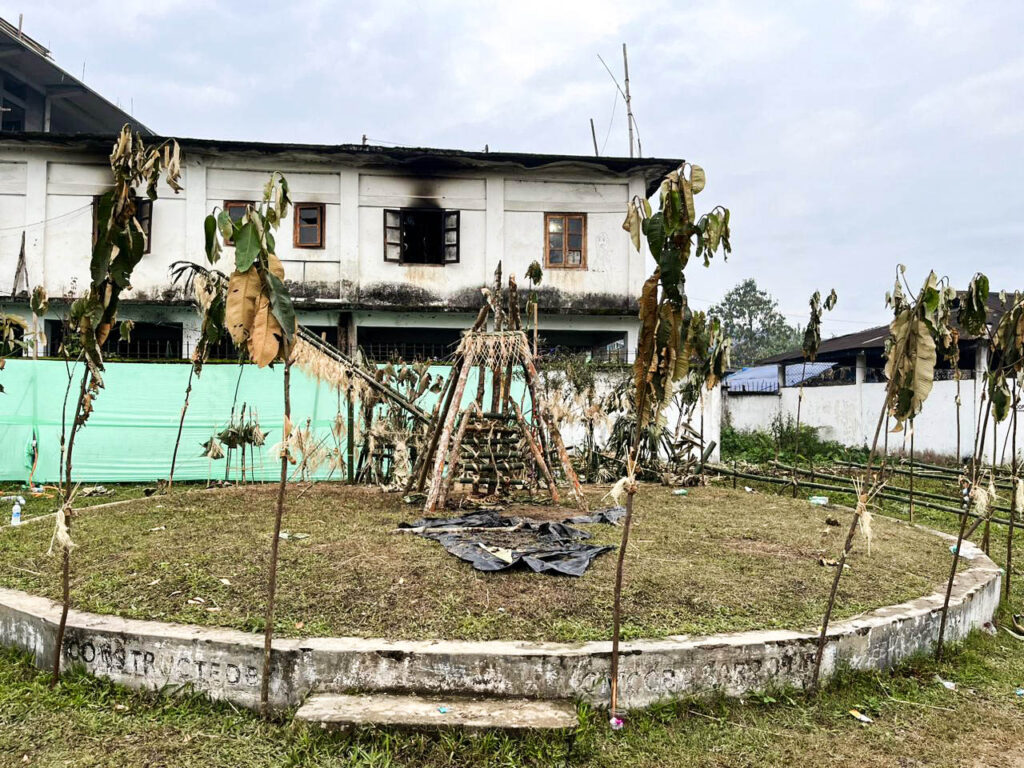 As we walked toward the sacrificial altar, Seni Riba explained that the structures of the altar vary with the different animals sacrificed during Mopin. We walked back to the numerous stalls propped up around the general ground, sharing Mopin greetings with everyone on the way; their families living away from Basar had come to attend Mopin in their hometowns. Seni Riba added, "During Mopin, it is nice to have everyone in the family back home, and I am glad to take my grandkids around to show them how Mopin is celebrated."
The first Mopin celebration was formalised in 1966 under the chairmanship of Yimar Riba, student leader of Govt Higher Secondary School, Aalo. Subsequently, it was resolved that Mopin would be celebrated on April 1st every year. The First General Secretary was Nyamar Ingo, whereas Gotu Bagra became the first Nyibu (priest) to conduct the Mopin festival at a communal level in a common ground. Eventually, in another meeting, the celebration date was fixed for April 5th and has remained unchanged ever since.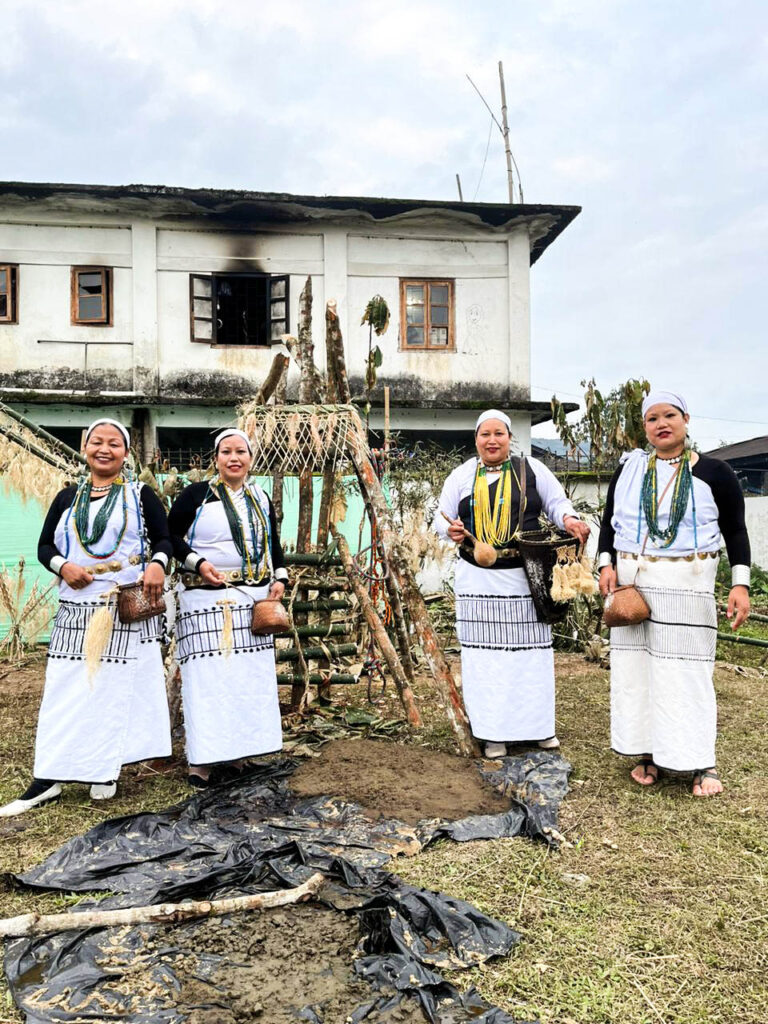 This year, Mopin was celebrated with just as much rigour and traditional gaiety as every other year, if not more. In the Lower Siang district, Deputy Chief Minister Chowna Mein joined the celebrations and appreciated the Galos for zealously preserving their culture and educating their young ones about the same. He added, "Nothing brings people together as festivals do".
In contemporary times, communities are separated by their economic vocations. Festivals such as Mopin have created a space for tribals living away from their hometowns to unite and reinstitute their traditions and customs to suit their present circumstances. Rice, as always, has been playing an essential part in the celebration and as a custom, rice paste is smeared on each other's faces to mark the beginning of the festivities. Locally brewed rice alcohol is prepared weeks before the festival begins. Men and women donned in beautiful white and black traditional attire complemented with their traditional beads act as a 'symbolism' of their identity.
Cultural activists and researchers in Arunachal Pradesh have observed the recent transition in the celebratory practices of Mopin among the Galos. As the festival was formalised and a single day was chosen to be celebrated as Mopin, they argue that the celebrations have become more centralised in nature. The festivals are now primarily organised by a single committee in each district on a large scale, bringing forth various other facets of socio-cultural unity among the Galos.
One cultural activist said, "Since agriculture is not an essential part of the people's livelihood anymore and since more and more people are migrating towards the urban centres to satisfy their vocation, Mopin has metamorphosed from its original idea of invoking Ane Mopin for a good harvest to a festival of wishing prosperity, sharing happiness, fostering friendships and bringing unity among the people. These are some of the positive changes that are taking place. Such changes are imminent but also necessary."
Mopin celebrations are accompanied by competitions in folk songs, dance, storytelling and folk narratives, further enhancing the obligations to protect one's tradition and culture. It provides a way for the younger generations to learn and reimagine their culture in ways they enjoy which otherwise would remain redundant and insignificant in their lives. The festivals have appeared to materialise into cultural tokens that have largely become an embodiment of their Galo identity, and in it, they have restituted their origin and their continuation. In a world that advocates, "Loss of culture is loss of Identity", the Galos, with their narratives of belonging by celebrating Mopin in its pristine zeal, has epitomised Chimamanda Ngozi Adichie's famous quote ", Culture does not make people, people make culture". And culture, like any other form of social inheritance, constantly changes and adapts to the needs and aspirations of the people it belongs to.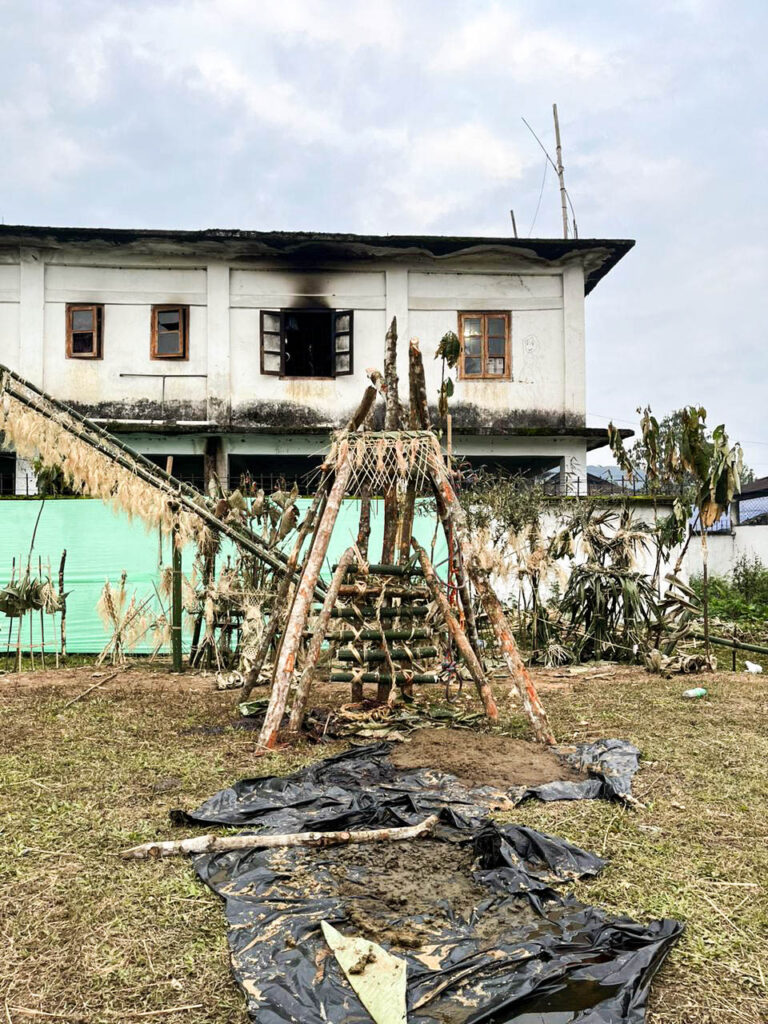 We ended the day with some juice and snacks from the stalls. The youngest grandchildren of Seni Riba had fallen asleep after a long day of celebration, and the other two were seemingly exhausted. Despite that, I am certain Mopin will always be reminiscent of 'good times' with their grandfather, and although it might not be an acute representation of what Mopin was about, it is everything that Mopin now represents.