The escape to Kolkata: Story of two girl students of Manipur who fled amid the carnage
Tales of Survivors
Amidst the tumultuous events that unfolded in Manipur on May 3, the state found itself engulfed in an inferno of chaos and violence.  In the aftermath of the Tribal Solidarity March, organized by the All Tribal Students' Union, Manipur (ATSUM), which vehemently opposed the demand for Scheduled Tribe (ST) status by the Meiteis, Manipur's Imphal Valley, Churachandpur, Kangpokpi, and Chandel Districts became the epicenter of destruction and mayhem. The streets were transformed into battlegrounds, as furious mobs set vehicles ablaze, mercilessly burned down homes, and unleashed deadly assaults on innocent lives.
Faced with imminent danger, both Kuki-Zomi and Meitei people were forced to abandon their homes and seek refuge in relief camps established by the armed forces, including the Central Reserve Police Force (CRPF) and Assam Rifles, as well as various Civil Society Organizations (CSOs).  
As stories of devastation and the countless tales of those who bore the brunt of the violence continued to unfold, caught in the maelstrom was Jolene (name changed).
Jolene, like a multitude of others, found herself uprooted from her homeland and compelled to seek sanctuary far away from the chaos.
The story of a 23-old woman
Jolene, a 23-year-old Zomi woman from Churachandpur stayed in a rented apartment in one of Imphal's tribal-dominated localities with her two sisters, one a civil services aspirant and the other a NEET aspirant. She fled Manipur's Imphal Valley for Kolkata on May 12 where she and her sisters were offered accommodation by a family member.
However, the days of turmoil spent in her small apartment in fear and the relief camps will always be etched into her life. On the fateful day of May 3 she remembers taking a long walk around Cheirao Ching watching young men play football. She thought to herself how much she enjoys self-reflecting in such a calm atmosphere.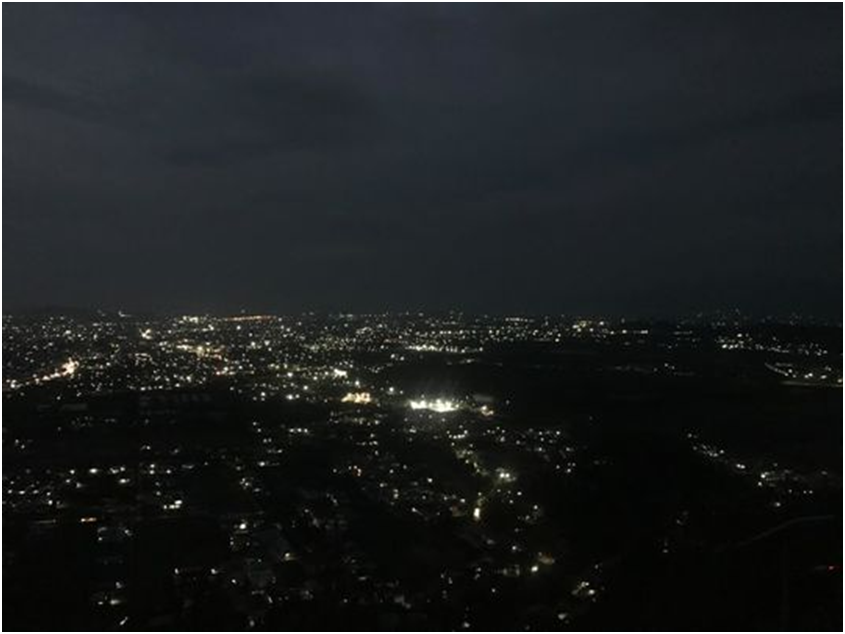 The view from Cheirao Ching the evening of May 3. Source: Jolene
Never did it occur to her how things would spiral into a mindless orgy of violence and hatred in a matter of hours. She was well-aware of the Tribal Solidarity March organized in the hill districts of Manipur but no one, including her, anticipated the aftermath of the march, where riots became the vice and hatred the norm.
On May 4, she and her sisters hid in their apartment, fearful that their place would be attacked and looted by the mobs. Until then, they had access to their neighbour's WiFi, due to which they kept updated about the situation in Manipur. However, reading the news only fuelled their anxiety, as their fears of being looted and mobbed turned into fears of being lynched by angry mobs.
She said, in a voice shaking with rage and sorrow, "I had already decided that if the worst happened, I'd stab myself to death before they could lay their hands on me. I'm so thankful that it didn't happen."
Even as other localities dominated by the Kuki and Zomi tribes were attacked and torched, her locality (unnamed for safety reasons) was left unharmed as the locality was mainly inhabited by the Anal, Moyon, and Koireng people, who do not identify neither as Kukis nor as Zomis. However, there were reports that Kuki houses in multi-ethnic localities were identified and marked for later mob attacks.
Since the three sisters did not want to risk their lives, they sought refuge in the house of a Koireng neighbour while simultaneously planning an escape to Churachandpur or army relief camps nearby. The distance between Imphal and Churachandpur is 63 km of good-quality roads with the duration of travel being only 1.5 hours. However, it was too risky to be evacuated via this road as the road was inhabited by many Meitei localities till Moirang.
Thus, they resorted to planning their evacuation to relief camps, where it was safe despite the poor living conditions. Quivering, she said, "Running through Lamphel to reach the evacuation camp safely in the middle of night, half expecting to be shot from the back or worse to be stoned dead, was a nightmare". There were reports of many Kuki-Zomi people being lynched and beaten to death by angry mobs while on their way to the relief camps. Even a man and his mother were stoned to death.
On May 5, Jolene and her two sisters slept under the moonlight, huddled together for warmth. She exclaimed, "It was a beautiful moon indeed. We almost forgot our fight for our lives".
On the second night, they were able to secure a tent. She expressed her gratitude and admiration for the CRPF troops, who she said, escorted internally displaced people to the airport every single day, giving out sanitary napkins & diapers, milk, and snacks for children, among others. Despite the hatred and brutal murders, the acts of kindness from strangers worked to restore her faith in humanity, partly.
However, their suffering didn't dissipate. There was scarcity of everything including drinking water and food. She recalls the painful sight of a 7 month-pregnant woman and her child passing away due to complications. They were told that they were escorted back to their hometown.
"Despite our own misery, pain, and hopelessness, all of us in the camps wished for the two poor souls to get proper burials", Jolene said. The Zomis consider it culturally important to receive a proper burial in a cemetery, run by their tribal association. The popular saying, "Zomi in a piang, Zomi in ka nungta, Zomi in ka si ding", which roughly translates to English as "I was born a Zomi, I live as a Zomi, and I will die a Zomi", highlights the linkages of land with identity and other socio-cultural practices.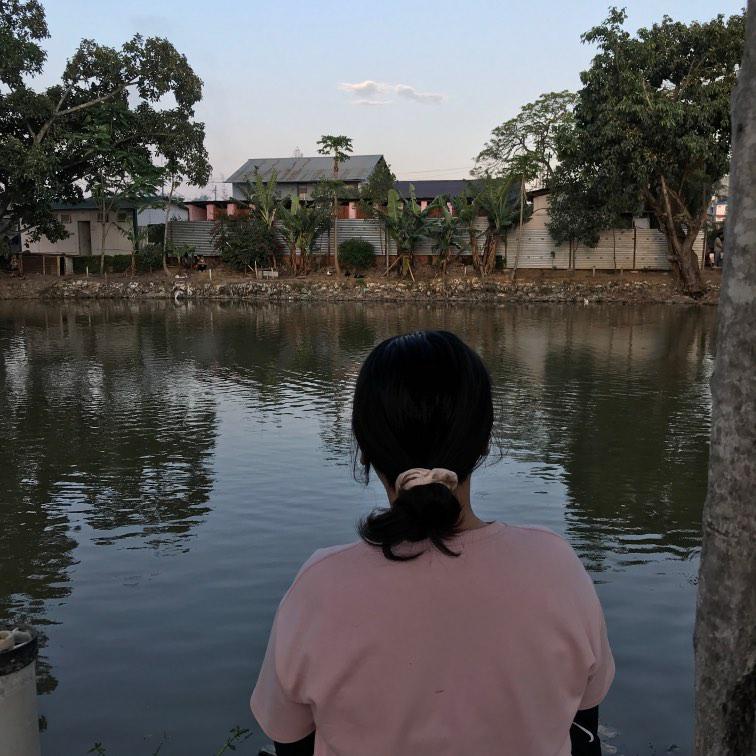 A picture of Jolene in the relief camp.  Source: Jolene
The mob didn't stop unleashing their fury even after they were evacuated to relief camps. She said that they repeatedly saw sticks and stones thrown into the CRPF camps from outside, perhaps hoping that it would injure someone.
While in the camp, she recalls her rage on reading the Sangai Express and finding no mention of the people stranded in relief camps in Imphal. She only found accounts and news reports of Meitei people who were stranded in Churachandpur. There has been a growing distrust of the state's media houses, which are considered to be biased in favour of Meiteis. Earlier, the state ISTV news channel incorrectly labelled Paite language as a "Myanmarese language", which served to further alienate the Kuki and Zomi people.
As Jolene shared her experiences, she recounted how the Kuki community in Kangpokpi would fondly speak of the delightful taste of Kangpokpi's sweet water and expressed their deep longing for it. Her eyes welled up with tears, but her resolve remained unshaken as she spoke, saying, "Hearing about the sweet water reminded me of our love for the hills of Manipur. It pains me to even think about the loss we would endure if we were to ever let go our homelands."
While on her way to the airport, Jolene could not help but notice a peaceful town with Meiteis and other tribals, in contrast to the curfew and heavy military presence in Churachandpur.
On the way to the airport. Source: Jolene
When Jolene and her two sisters landed in Kolkata, the volunteers and church elders of the branch churches of those burnt down in Imphal opened doors to anyone needing a place to stay, regardless of church membership. However, for people from socio-economically disadvantaged backgrounds, fleeing Manipur isn't a viable option as flight prices shot up to anywhere between 20,000-30,000 Rupees, which was very exploitative. Jolene spoke of her own privilege, "Although from a middle class family, I have relatives and family friends in most of the major cities in the country where I could turn to in times of need such as this. Most of the people who were stranded in camps like myself didn't have options like I did".
After she made it safely to Kolkata, she saw various media narratives of "Christian Tribals VS Hindu Meiteis" being shared and liked, with the most controversial being the controversial Indian actress Kangana Ranaut posting, "Save Hindu Meiteis from Illegal Immigrants" on her Instagram story. Jolene staunchly replied, "At the CRPF camp are two small rooms housing some of the displaced people: one being a temple and the other a Gurudwara. The way the personnel and the tribals interact is cordial at worst and endearing at best. If this was about religion, could this have happened? It is a matter of narratives."
All 10 MLAs representing the Kuki and Zomi communities have united in their demand for separate administration, citing the lack of safety in Manipur. Shockingly, two of these MLAs hold prominent positions in the Manipur Government led by Biren Singh, and seven belong to his own party, BJP. In their joint statement, they expressed, "Living among the Meiteis would be akin to a death sentence for our people."
When asked about her thoughts on the matter, Jolene admitted that while she doesn't expect immediate change, she holds a glimmer of hope for a separate administration or even the creation of a distinct state. "I do have my reservations, as would anyone who knows the sociopolitical situation in the hills of Manipur. There have been several inter and intra tribal conflicts throughout history", she added.
Jolene's story encapsulates the harrowing experiences and lasting trauma inflicted upon her community. As they navigate the maze of emotions and scars left behind, Jolene and her sisters embark on a collective journey towards healing and reconciliation, much like countless others who have borne the weight of the violence in Manipur, the place they once called home.