7 Tourists Dead, 20 Feared Buried in Sikkim Avalanche Amid Fresh Landslides And Snowfall; Rescue Ops Called Off
As many as seven persons were killed and over 20 others injured when an avalanche struck the Gangtok-Nathu La road in Sikkim on Tuesday afternoon.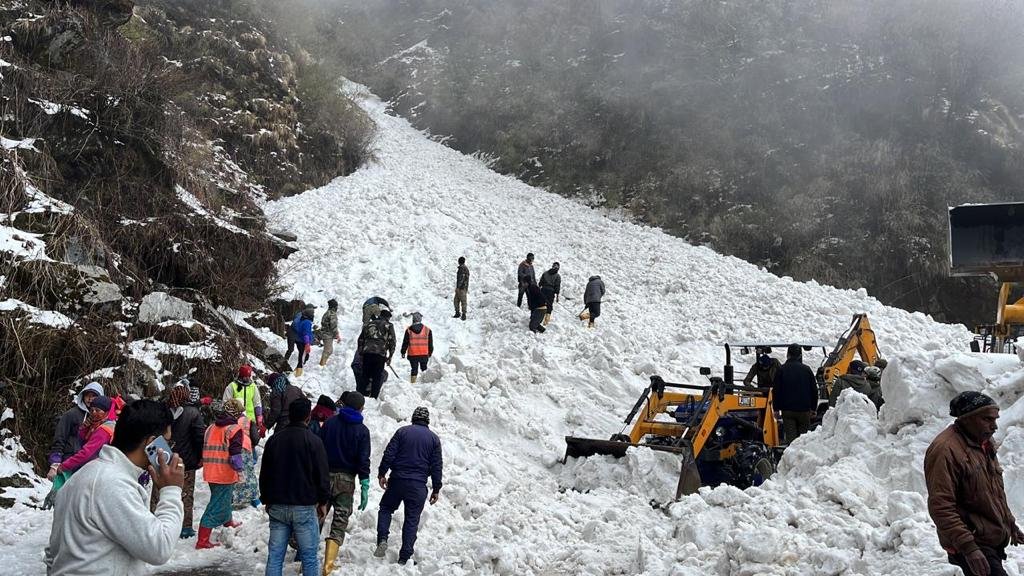 All the dead were tourists who had come from different parts of India to see the famous Tsongmo lake situated in the Gangtok district of Sikkim. 20 to 30 tourists are feared to be buried under the snow. As fresh landslides were occurring till later in the evening, the rescue operation had to be called off.
Out of the 27 individuals who were rescued, 15 were taken to the Army Hospital located nearby. Unfortunately, six of them passed away and nine others were transported to Gangtok after being treated. The deceased individuals were identified as Rekha Rana (aged 34), Bal Singh (aged 34) who worked for the Department of Medical Health and Family Welfare (BHW) in the government of Uttar Pradesh, an adult male known as Pritam to his acquaintances, and an unidentified 6-year-old female child. Additionally, there was one person whose identity was unknown and who was not taken to the Army Hospital.
The latest slide occurred at around 5:35 pm with fresh snowfall making the rescue operations dangerous, said officials of the Army's Eastern Command. The JNM Axis is closed now due to the slide.
Earlier an NDRF statement said that, "All tourists and tourist vehicles have been accounted for. The rescue operation has been called off. Details of recovered tourists will be shared later."
The avalanche is said to have struck at approximately 12:15 pm at 14th mile on Jawaharlal Nehru Road connecting Gangtok to Nathu La pass. An army statement said that around 3 pm, "14 persons were rescued and taken to nearby Army medical facility. However, seven persons succumbed. The other seven persons were administered first aid and returned to Gangtok."
Prime Minister of India Narendra Modi in a tweet wrote, "Distressed by the avalanche in Sikkim. Condolences to those who have lost their loved ones. I hope the injured recover soon. Rescue ops are underway and all possible assistance is being provided to those affected: PM @narendramodi."
Defence Minister Rajnath Singh and Home Minister Amit Shah too expressed their grief at the loss of lives and the tragic incident.
In a tweet, Singh said, "Saddened by the loss of precious lives due to an avalanche in East Sikkim. Search and Rescue Ops are being carried out by the Indian Army, SDRF and other agencies. My deepest condolences to the bereaved families. Praying for the speedy recovery of the injured."
"My sincerest condolences to the families of those who have lost their lives in the tragic avalanche in Sikkim. We are closely monitoring the situation and the teams of NDRF will reach the affected area soon. I pray for the speedy recovery of those injured," Shah tweeted.