Local voices against China's name game misadventure builds up, another protest rally held in Tawang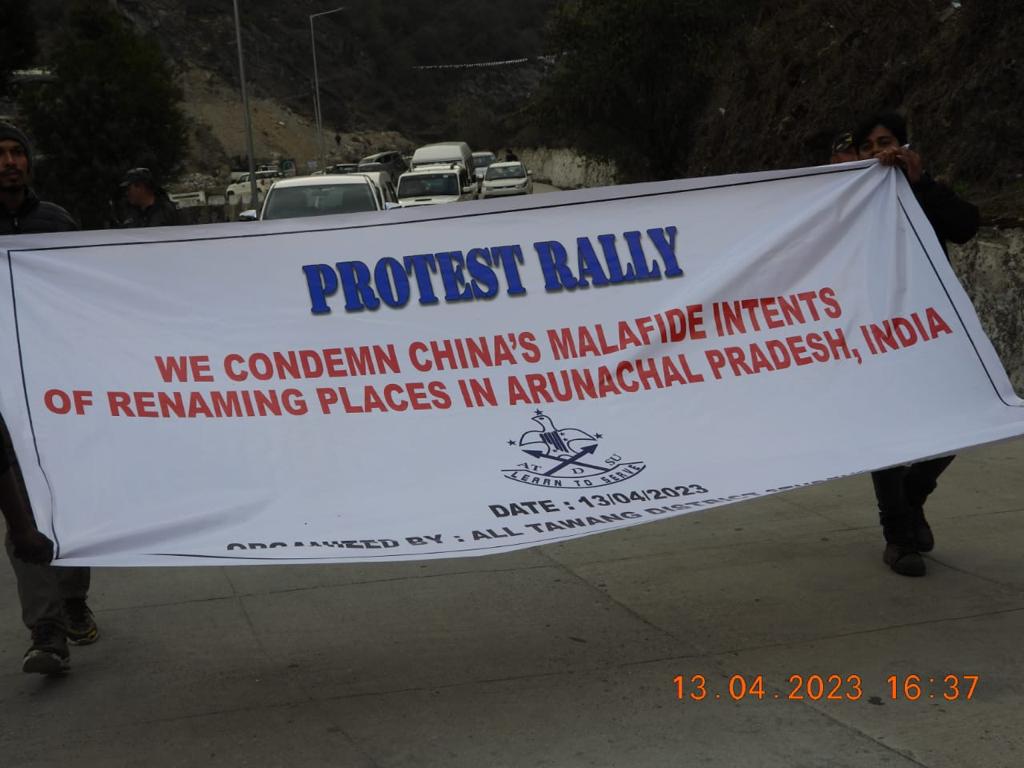 Voices against China's name game warfare has come under fire from locals of different parts of Arunachal Pradesh. Following a rally yesterday at Miao in the Changlang district of the State which was taken out by members of the Regional Tibetan Youth Congress (RYTC) and the Tibetan Women Association (TWA), a similar protest rally was held in the Tawang district today. The rally which saw almost 2000 participants was held under the leadership of Sangey Dondup, president of the All Tawang District Students Union (ATDSU).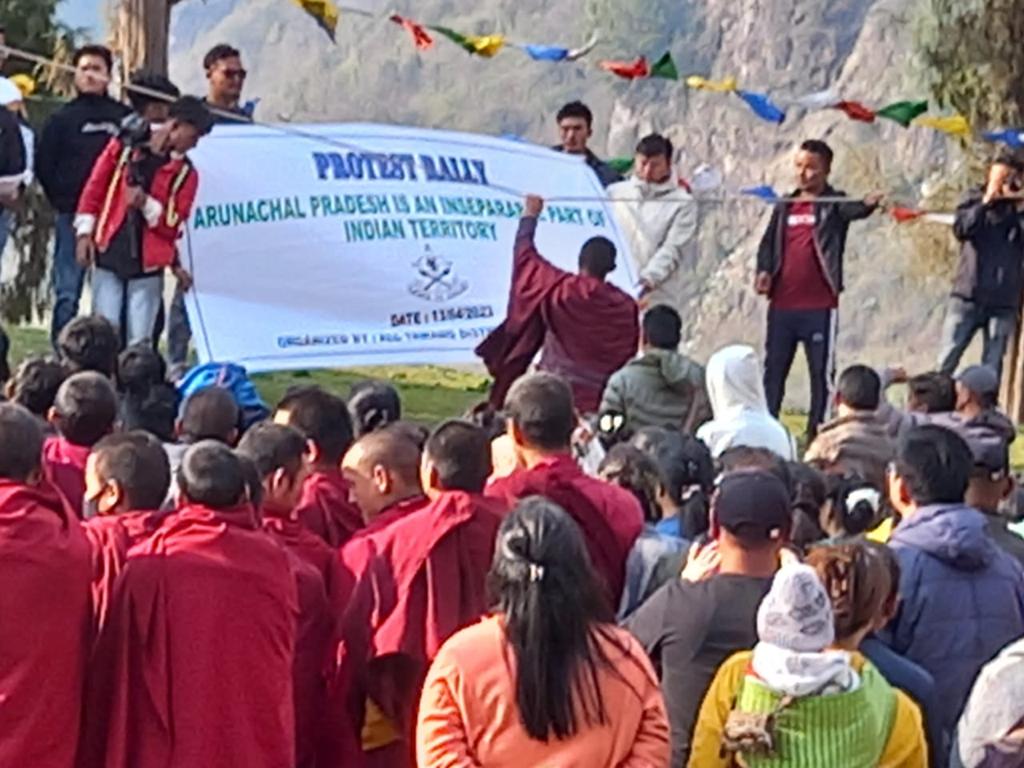 China has recently renamed 11 places in India's Arunachal Pradesh state which it refers to as Southern Tibet. Beijing's efforts to change names of places begun in 2017 when the Chinese cabinet said that it had "standardised" names of six places in Arunachal Pradesh. Then in 2021 Beijing gave its own names (in Tibetan and Chinese characters) to 15 places of Arunachal Pradesh with precise coordinates.
In the past week or more there have been various reports which have called out China's fakery and interference with names of Indian villages. Experts on China studies have said that China is attempting to intensify its legal warfare with India in order to keep provoking New Delhi.
However, this time around the reactions are not confined to some media reports and commentaries from experts on strategic affairs and China. Lending credence to this are protests rallies which aims to raise awareness about the issues affecting the community. The involvement of Sangey Dondup, who is a well-respected figure in the community, is likely to play a significant role in drawing support for the protest.
The rally in Tawang started around 3:45 pm from Chamleng, near Tawang Monastery and ended at Tawang Buddha Park at 5:30 pm. Placards reading "we are not Chinese we are Indians," Tawang Bharat ki abhin ang he" (Tawang is an integral part of India) and "we urge the Indian government to publish the map of Tibet as occupied Tibet," could be seen as protesters marched through the main streets of Tawang.
Some of the key speakers in the rally included Jambay Wangdi, chairperson of the department of Karmik and Adhyatmik, Lama Nawang Norbu, president of Theldon Rigshung Cuktural Preservation Society, Thupten Kalden, Superintendent Engineer, DHPD Delhi and others.
ATDSU president Dondup said, "the situation is not like 1962 anymore that China's shows its power and we will keep quiet. If required we will fight together with Indian army and sacrifice our lives for our territory." We went on to add saying, "we want to tell China to stop bullying Indian in Mon region of Arunachal Pradesh. 1962 will not be repeated again."
In yesterday's rally in Miao town over 350 locals participated. Members of the RYTC and the TWA, carried the yellow Tibetan flag and the Indian tricolour as they marched across the streets of Miao.
New Delhi has rejected China's renaming attempts, stating that Arunachal Pradesh has always been an integral and inseparable part of India.
China's aggressive stance towards India is seen as part of its larger strategy to become the dominant power in Asia. Experts suggest that China's "legal warfare" with India is a tactic aimed at securing its territorial claims and expanding its influence in the region. While China's actions may seem aggressive, experts suggest that their legal manoeuvres are unlikely to succeed in the long run.
India, on the other hand, has been working towards strengthening its legal position in the region by bolstering its military presence and infrastructure. India has been building roads, airstrips, and other strategic infrastructure in Arunachal Pradesh, which is seen as a countermeasure against China's territorial ambitions.
India's growing economic and military power and its strategic alliances with other countries such as the United States, Japan, and Australia are likely to thwart China's ambitions in the region. India must continue to pursue a strong and assertive foreign policy to safeguard its interests and maintain its position as a regional power.
Some of the organisations which participated in the rally at Tawang include All Tawang District Students' Union, All Monpa Students' Union, All Arunachal Pradesh Students' Union, Indo Tibetan Friendship Society (ITFS), Tangnyom Tsokpa, Theldon Rigshung Cultural Preservation Society, Tawang Galden Namgyal Lhatse Charitable Society (TGNLCS), Students' for Free Tibet, Mon Institute of Performing Arts, Monyul Buddhist Cultural Preservation Society, The Humanity Group, Tibetan Freedom Society Tawang besides monks of the Tawang Monastery, monks of Sera Jey Jamyang Choekorling Monastery, villagers of Shyo, people of Tawang and all shopkeepers of the 03 market.