NUG dismisses role of Burmese migrants' in Manipur crisis as "baseless"
The message is loud and clear: Burmese refugees, wherever they are, should have remotely anything to do with the host country's politics and internal issues. The National Unity Government (NUG) of Myanmar in exile, while dismissing the allegations of "illegal Myanmar migrants" being involved in the Manipur violence as "baseless," is urging all Myanmar refugees to refrain from interfering in the internal affairs of the State.
The NUG, which is a shadow civilian government primarily formed by democratically elected lawmakers representing different political parties, issued a statement on June 15 emphasising that all refugees from Myanmar in India should maintain a distance from politics and domestic matters of the host country. An official from the NUG's Ministry of Foreign Affairs stated that Burmese refugees in Manipur are currently undergoing a registration process with the Indian government's Ministry of Home Affairs.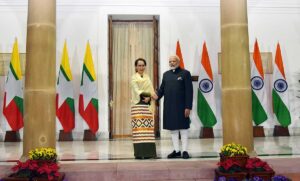 "We see this as a fight between Manipuri people, Kukis and Meiteis and in that sense they are Indian. We are not illegal immigrants. We are refugees. We cross the border to take refuge in India because our life is not safe in Burma," the NUG official who is based out of India said. He further went on to say that the NUG is "actively collaborating with the Indian authority, particularly with Delhi for registration of our people. The process already started before the riots happened in Manipur."
Most importantly, this message to Burmese refugees comes at a time when several narratives have emerged from various sections, particularly in the valley, pointing the accusing finger at "Myanmar immigrants" for the present crisis. While some of these have emanated from none other than Manipur Chief Minister Biren Singh's office, other groups have joined the chorus claiming that "identifying illegal immigrants and deporting them" would help restore normalcy.
While it cannot be denied that there has been an influx of Burmese migrants across the international border shared by Myanmar and India's Manipur State, the actual numbers of migrants and the time periods during which they crossed over remain unknown. A day before violence erupted in Manipur, specifically on May 2, Chief Minister Biren quoted a figure of 2,000 "Myanmar nationals" who, he claimed, had entered the state due to the ongoing conflict in Myanmar. He mentioned this while launching a facial recognition system to strengthen the Inner Line Permit (ILP) system in the state, aimed at regulating the entry of outsiders.
In fact, the figures quoted by the Manipur Chief Minister is not far from what was mentioned by the NUG official, that is a maximum of 3000 Burmese refugees who are presently in Manipur. The NUG official said that a recent assessment of the ground situation provided the data "which has been shared with New Delhi." "Even though this number is very very small compared to the population of Manipur but we are willing and ready to be registered in Manipur like in Mizoram," the NUG official reiterated.
Since the February 2021 military coup in Myanmar, there has been an inflow of refugees both in Manipur and Mizoram which are neighbouring states and share international borders with Myanmar. Manipur shares a 398 km border, mostly porous, with the Sagaing division and Chin State of Myanmar. Five of its districts that is Churachandpur, Chandel, Tengnoupal, Kamjong and Ukhrul share borders with Myanmar.
Most of the recent migrants or refugees have expressed their desire to return as soon the situation normalises in Myanmar, while many have even returned. A visit by The Borderlens team to some of the bordering areas between 2021 and 2022 revealed that most of the people, had left behind their relatives and young members of their families to guard their houses and also fight the "democracy war" in Myanmar. Most of the people were focused on one thing that is to "join the resistance movement at home." Many said, "we are desperate to get back and we are here to protect ourselves."
The same views were shared by the NUG official who claimed that the Burmese have a "very simple desire, to go back to their country as soon as the political situation is normal. "This is our true inclination and the process already started," he said going on to add, "We do not want create any sort of worry for the Meitei people." He claimed that daily appraisals are provided to the government and the state government too has been witness to the collaboration of the Burmese.
Thus, as accusations are flying thick and fast on the involvement of "Myanmar illegal migrants," albeit without any real proof to back up such claims, the announcement form the NUG does one thing and that is to make its position clear. It also helps to quell what the NUG official terms as "misgivings" which has been created by the "accusations" and "rumours."
Furthermore, it also assumes great significance as the NUG which has the support of international powers like the US, UK and Europe besides implicit support ASEAN countries, has also been reaching out to the Indian establishment on supporting its movement for democracy.
The NUG statement which was issued by its Ministry of Foreign Affairs on its online platform had some very pertinent message to make and all that is required is to read between the lines to be able to understand how the Burmese civil society posits itself in so far as the situation in Manipur is concerned. The statement has asked Myanmar nationals to – refrain from any acts that are prejudicial to the sovereignty and territorial integrity of the Republic of India; to be cautious and avoid unnecessary involvement in political and administrative matters (example — political parties' election campaigns and ethnic-based conflicts) of the state where you are taking refuge; to not to get involved in illegal trafficking of drugs and wild animals, and related matters; to live in harmony and appropriately with host communities and follow the religious and social rules regulated in the wards or villages you are residing; and to contact, inform and consult with the nearest Myanmar Parliamentarians and responsible persons from the social organizations in case of Myanmar nationals encounter social problems and difficulties, and communicate with the Ministry of Foreign Affairs if necessary Myanmar parliamentarians and social organizations are requested to disseminate the notification to refugees and related communities.
Incidentally, today is the 78th birthday of Democracy Icon Aung San Suu Kyi who had been imprisoned by the military junta days after the coup in February in 2001.
The NUG which is largely driven by the Nationalist League for Democracy (NLD) a party she founded and which won a landslide victory in the 2020 election following a successful five year tenure in government, could not have chosen a better occasion to make its position clear on Manipur. "We are always close and always loom up to India and even now we have over 40000 people in India who are refugees so we simply cannot afford and don't want to be part of any kind of activities which would harm our relationship," the NUG official said.